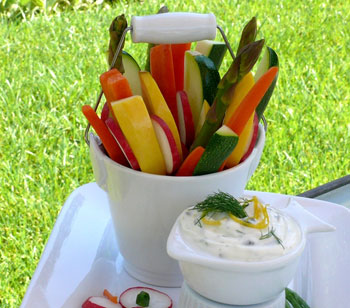 This weekend in the United States we celebrate Labor Day.  A holiday that originated in the 1880's to give the working citizens of America a day of rest. 

I think for Americans it is a more significant celebration of the end of summer. 

It's not Labor Day (or any holiday) unless I have some type of "dip".  It doesn't matter what kind, just as long as it exists in some shape or form in my kitchen.

Yesterday I was having a terrible salt craving so I opted for something with capers to satisfy the urge.  I make this Lemon-Caper Dip in two versions, low-fat and full-of-fat.  Of course my husband prefers the full-of-fat version but it's easy to make either way and is only a matter of switching out one of the ingredients. 

I made the lower-fat version this time using yogurt but for the full-of-fat version just substitute mayonnaise for the yogurt, it's really good that way too.
Lemon-Caper Dip

1 8 oz. container sour cream
1/2 cup plain yogurt (low-fat or nonfat) substitute with mayonnaise for the full-of-fat version (it's tasty)
2 Tablespoons drained capers, chopped
2 teaspoons chopped, fresh dill, more for garnish
1 teaspoon lemon peel, finely chopped, more for garnish

Combine sour cream, yogurt or mayonnaise, capers, fresh dill and lemon peel. Mix well and refrigerate until ready to use. 

Slice up your favorite veggies and dip in!