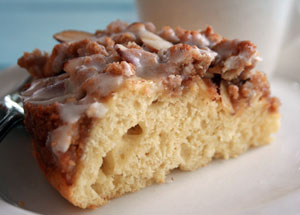 A couple of weeks ago I stopped into a cozy coffee shop tucked into a rural community in West Central Minnesota. On the exterior, it was just an old brick building, but one step through the door and my nostrils were greeted with the aroma of rich brewed coffee. Cookies, sweet rolls and scones tempted me from the case of sweets. I decided this was a place I could nestle into for a while.
As I ordered my first cup of coffee of the day — large dark roast, no cream — I spied a cake in a 9-x13-inch pan situated on the counter. A couple of pieces had already been served from the cake, so I could see its insides.
I thought for sure it looked like a rhubarb cake. If I could be that lucky, I would definitely splurge on a big chunk to eat with my coffee. It was a very brief back and forth conversation with the server in the shop that dashed away any dreams of satisfying my taste buds that had begun to salivate for rhubarb cake.
Me: Excuse me. What kind of cake is that?
She: It's coffee cake.
Me: Oh, there's no rhubarb in it?
She: No, it's coffee cake.
Me: So, there's coffee in the cake? (I thought this a legitimate question, since this was a coffee shop, after all.)
She: It's coffee cake.
Me: Okay. I'll take a piece, please.
The cake was good, despite the fact it had no rhubarb. It was moist on the inside. The top carried a blanket of crunchy sugary topping. It went well with my coffee. I guess that's why it's called coffee cake.
After finishing my morning pick-me-up, I walked to an antique shop that was close-by. I found a rack of old church cookbooks. As I was paging through a cookbook from a church in the community, a recipe for COFFEE CAKE jumped right out at me. I decided to buy the book and make coffee cake when I returned home. By the time I was done shopping, my arms were loaded with at least half a dozen old cookbooks with their stained pages, torn covers and occasional notes jotted in by previous owners as they baked and cooked their favorite recipes.
When I set the stack of cookbooks on the counter to pay for them, I was shocked when the store owner told me they were $9.99 each. What? I'll bet they didn't cost that much brand new. Apparently, church cookbooks are harder to come by these days, thus their value has increased. Just when I thought I would clean out all the old church cookbooks from my shelves — guess not. I walked out of the store with just two cookbooks and 4 of the prettiest little Italian espresso cups and saucers.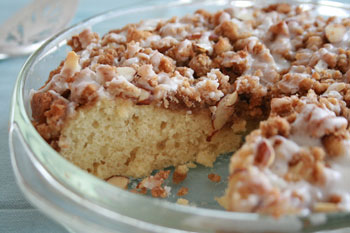 Finally, I've made a coffee cake. I used the recipe from the old church cookbook I brought home, but added my own topping and some sweet almond glaze. It's so old-fashioned looking — it seems like something out of grandma's kitchen. And it tastes like it, too. Delicious!
When I took the pretty little cake out of the oven, it suddenly occured to me that I had forgotten to add the sugar to the cake batter.
Sugar is added to baked goods for a good reason. Irregular sugar crystals create thousands of tiny air pockets that produce a delicate and satisfying crumb structure and expanded volume. Sugar also slows down the baking time, giving the baking powder time to work. So, with sugar, this coffee cake would have a delicate crumb texture rather than here-and-there holes. And, it may even have more volume if the baking powder had a little more time to do its job.
My coffee cake — no sugar — gets plenty of sweetness from the almond and brown sugar topping. I mixed some almond paste into the butter and brown sugar. It adds marvelous flavor.
Well, now you know. It's coffee cake. No sugar. No cream. Coffee cake.
Coffee Cake with Sweet Almond Topping
Preheat oven to 350°F. Grease and lightly flour a 9-inch round baking pan or glass baking dish.
Make Sweet Almond Topping:
In a bowl, mix:
1/2 cup packed brown sugar
1 teaspoon cinnamon
1/3 cup almond paste
2 tablespoons melted butter
1/4 cup sliced almonds
Set topping aside.
Make cake:
Sift together into a mixing bowl:
1 1/2 cups all-purpose flour
2 teaspoons baking powder
1/4 teaspoon salt
Whisk in:
1 cup sugar (I forgot to add the sugar. You can go with or without.)
In a 2-cup glass measure, beat:
1 large egg
Add:
enough milk (I used buttermilk) to measure 1 cup.
Add:
1 teaspoon pure vanilla extract
2 tablespoons melted butter
Pour liquid into bowl with dry ingredients. Mix just until none of the dry ingredients are visible. Spread batter in prepared baking dish. Sprinkle with topping. Bake in preheated 350-degree oven for 20 to 25 minutes.
Allow cake to cool in pan on wire rack. Make glaze and drizzle over the cake.
Glaze
2 cups powdered sugar
4 tablespoons (1/2 stick) butter
4 tablespoons cream
1/4 teaspoon vanilla extract
1/4 teaspoon almond extract
Mix all ingredients until smooth. Leftover glaze can be stored in the refrigerator.
Cake adapted from recipe in First Lutheran Church Cookbook, Morris, MN. 1986.
Sue Doeden is a popular cooking instructor, food writer and integrative nutrition health coach. She is the host of Good Food, Good Life 365 on Lakeland Public Television. Her own hives full of hardworking bees and her love of honey led to the creation of her recently published cookbook, Homemade with Honey.