These are always a big hit at parties, so I when I saw this recipe on Cook's Country I knew I had to try them. The most common method is to use store bought crescent dough or puff pastry, but the crust used here is based on a cream biscuit recipe. You can make them ahead and keep them in the freezer until ready to bake.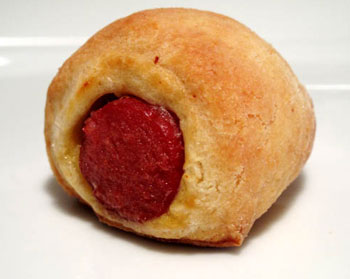 2 cups all-purpose flour
4 tablespoons vegetable shortening, cut into 1/2-inch pieces and chilled
2 teaspoons baking powder
1 teaspoon salt
1/4 teaspoon cayenne pepper
1½ cups heavy cream
1 large egg, lightly beaten
1/4 cup flour (for hot dog rolling)
6 hot dogs

Line rimmed baking sheet with parchment paper. Pulse 2 cups flour, shortening, baking powder, salt, and cayenne in food processor until the mixture resembles coarse meal. Transfer to large bowl. Stir in cream until combined. Turn onto lightly floured surface and knead dough until smooth, 8 to 10 times.
Roll dough into 15- by 10-inch rectangle. Brush dough with egg wash and cut into six 5-inch squares. Place remaining flour in shallow dish. Pat hot dogs dry with paper towels and coat with flour, shaking off excess.
Arrange 1 hot dog in center of each dough square. Roll dough around hot dog and pinch seam closed. Cut each hot dog into 4 rounds and place on prepared baking sheet. Freeze until firm, about 30 minutes. Transfer to zipper-lock bag and freeze for up to 1 month.
Adjust oven rack to middle position and heat oven to 425 degrees. Arrange rounds, seam side down, on parchment-lined rimmed baking sheet. Bake until golden brown, 25 to 30 minutes. Let cool 10 minutes. Serve warm.
– Recipe courtesy of Cook Like James