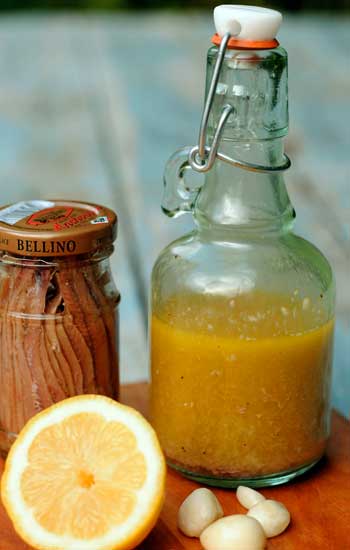 I discovered the love of cooking at age 7. Since that first cake that I baked for my dad's birthday, I have always cooked using ingredients found in the kitchen. I can probably count on one hand how many times I created something from a box or a mix and never really thought there was any other way.
I have always had weird food aversions(which is what I believe kept me out of culinary school). I didn't like "white" food. Sour cream, ranch dressing, mayo, cream cheese, and anything with that consistency, or white – made me gag. Thus, at a very early age, I started making my own salad dressings; oil and vinegar based. When I order in a restaurant, it's very, very specific and I can't order a Caesar salad out.
Although I know exactly what is in the dressing, it really comes down to the consistency. If it's too creamy or looks mayo-like, I can't do it. I don't like creamy food. My ice cream cannot get too soft, a Dijon vinaigrette has to look more oil based, and although I love hummus, tahini cannot be anywhere near me. Thus, my quest for the perfect salad dressings began.
Over the past 40 many years I have come up with a host of delicious salad dressings. Not to mention, making homemade salad dressings costs pennies to create. There are no special ingredients to purchase, one generally has oil, vinegar, herbs, and spices on hand and in doing so you are not pumping your family up with artificial ingredients.
We have 5 house hold favorites and one, sometimes two can be found in our fridge at all times. The first salad dressing recipe I am going to share with you is my Caesar. It truly is the best Caeser you will eat, better than any 5 star restaurant. Ask any of my friends and family – and they will all agree!
Susan's Caesar Salad Dressing
25 years ago my friend, Rena, gave me a copy of her Caesar dressing. Hers had egg in it. Hers also had the freshly grated Parmesan in the dressing. I never used the egg, and found that the cheese hardened as it sat in the fridge. Through the years I have come up with my own, that I have never shared until now. Enjoy!
Ingredients:
3 garlic cloves, peeled
6 anchovy fillets
1/3 cup red wine vinegar
dash of Tabasco
3-4 dashes of Worcestershire Sauce
juice of one lemon
freshly ground pepper – 10 grinds
1 cup good olive oil
Parmigiano-Reggiano, freshly grated
Croutons (when I don't make my own, I use these)
Instructions:
• in the bowl of a mini chopper, chop the garlic cloves to a mince. add the anchovy and make a paste.
• add the red wine vinegar, tabasco, Worcestershire Sauce, juice of one lemon and pulse 5-8 times.
• add the freshly ground pepper. in a steady stream, add the olive oil, pulsing as you go. you want the dressing to come together and emulsify.
• store in a glass jar, in the fridge, for 2 days.
• when ready to assemble, I like to put a bit of dressing on the bottom of my wooden bowl. add your chopped lettuce. sprinkle, generously with grated parmesan cheese. toss. add a bit more cheese, your croutons, and if needed more dressing. toss again.
This salad becomes a favorite week night meal using left over chicken!
Susan Salzman writes The Urban Baker blog to explore her dedication to good food in the hope of adding beauty to the lives of her family and friends.