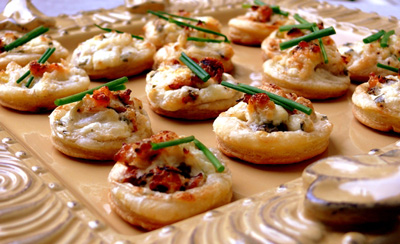 Easy and impressive food...I love it. Another quick and easy appetizer to make your dinner party go as smooth as possible.
This is the perfect finger-food. It is a breeze to make and serves lots of hungry mouths. You can even make them up the day before and bake them off right before guests arrive. Since it makes enough for a couple sheet trays, you can either bake them all together, if all guests arrive at the same time. Or bake one sheet tray at a time, having some available for guests who arrive late.
Either way, these buttery-tasting puffs will have everyone grabbing for more...make sure you grab a couple when they get passed the first time. They will disappear!
Crab and Chive Puffs
From Real Simple
2 sheets frozen puff pastry (a 17.3 ounce box), thawed
4 ounces cream cheese, room temperature
1/2 cup mayonnaise
1/4 chopped fresh chives, more for garnish
1 Tablespoon fresh lemon juice
Kosher salt and black pepper
1 pound lump crabmeat
Heat oven to 400°F. Using a 2" inch-cookie cutter, cut the pastry into rounds. Place on 2-parchment-lined baking sheets.
In a medium bowl, mix together the cream cheese, mayonnaise, chives, lemon juice, 1/2 teaspoon salt and 1/4 teaspoon pepper. Fold in the crab.
Dividing evenly, spoon the crab mixture onto the pastry rounds (about 2 teaspoons each). Bake, rotating the baking sheets halfway through, until the pastries are golden and crisp, 20 to 25 minutes. Sprinkle with more chives and serve hot.
Cathy owns a vineyard and winery in the Willamette Valley of Oregon. She is a food writer forDavis Life Magazine and blogs daily about wine, food and everyday living. She lives with her husband and two sons. You can visit her at noblepig.com.