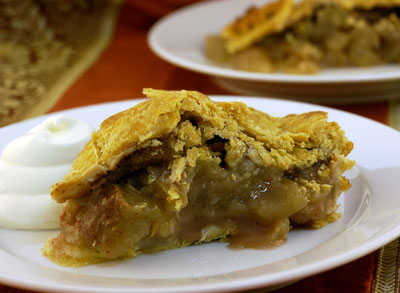 Fall is definitely in the air here in the Willamette Valley. The night temperatures have been in the mid-40's and the leaves are turning orange and brown to mark the season. The kids are already asking for flannel sheets to be put on their beds. I don't blame them, it's cold at night.
Well nothing screams Fall more than Apple Pie baking in the oven. I also like to top it off with Maple Whipped Cream.
Everyone makes their own version of apple pie and of course we all think ours is the best. I believe it's one of the most satisfying comfort foods around and I love it any time of the year.
Hopefully it has cooled off in your neck of the woods so you too can put an apple pie in the oven.
Apple Pie
Adapted from a million recipes over the years
For the pastry, makes two 9" pie crusts:
2 cups all-purpose flour, sifted
1 teaspoon salt
2/3 cup plus 2 Tablespoons butter flavored Crisco
1/4 cup water, cold
For the filling:
8 large Granny Smith apples, peeled, halved, cored and cut lengthwise into slices 1/4" thick
3 Tablespoons all-purpose flour
3/4 cup sugar
1 teaspoon ground cinnamon
1/2 teaspoon ground nutmeg
1 Tablespoon unsalted butter, cut into small pieces
For the crust...add 2 cups sifted, all-purpose flour to a bowl; mix 1 teaspoon salt through it. Add 2/3 cup plus 2 Tablespoons butter flavored Crisco into the flour.
Using a pastry blender or two knives, cut in shortening until particles are the size of giant peas. Sprinkle with cold water, one Tablespoon at a time, mixing lightly with a fork, until all flour is moistened.
Gather dough together with fingers so it cleans the bowl. Press firmly into a ball. Turn out lightly onto a wax paper covered board. Divide the dough in half with a knife and set one half aside.
Flatten dough with your hand and place a piece of wax paper on top (not necessary if you have a stockinet on your rolling pin). Roll out not quite 1/8" thick. Roll lightly. By using wax paper or a stockinet on your rolling pin, this will prevent you from adding extra flour to the dough, making it tough. Keep rounding the edge of the pastry. If it begins to break, pinch broken edges together immediately.
Keep pastry circular and roll it about 1" larger all around than inverted pie pan.
Fold pastry in half. When you roll out the top crust only, make three slits in the dough. This allows the steam to escape while baking. Do not make slits in the bottom crust!
Carefully transfer the pastry to a pie pan. Unfold and ease pastry loosely into pan, being careful not to stretch. (Stretching causes pastry to shrink during baking.)
For the filling...place apple slices in a large bowl. In a small bowl, stir together 3 Tablespoons all-purpose flour, 3/4 cup sugar, 1 teaspoon cinnamon and 1/2 teaspoon nutmeg and sprinkle over the apples. Using your hands, turn to coat. Pile the apple mixture into the pie shell, mounding it in the center. Dot with 1 Tablespoon unsalted butter cut into small pieces.
Roll out the second ball of dough for the top of the pie just as you did the first. Don't forget to make the slits. Unfold top pastry over filling; trim overhanging edge 1 inch from the rim of plate. Fold and roll top edge under lower edge, pressing on rim to seal; flute as desired. Cover edge with 2-3 inch strips of foil to prevent excessive browning.
Bake in a preheated 425 degree oven for 50 minutes or until crust is brown and juice begins to bubble through slits in crust, removing foil for last 15 minutes of baking.
Maple Whipped Cream
1 cup heavy whipping cream
1-1/2 Tablespoons pure maple syrup
In a medium-sized bowl and cream and maple syrup. Beat until soft peaks form.
Serve with apple pie.
Cathy owns her vineyard and winery in the Willamette Valley of Oregon. She is a food writer for Davis Life Magazine and blogs daily about wine, food and everyday living. She lives with her husband and two sons. You can visit her at noblepig.com.