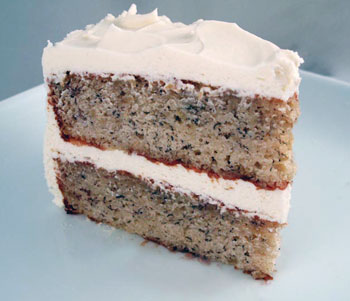 My friend Chris was recently visiting LA and I decided to surprise him with one of his favorites - Banana Cake. He lives in NYC and loves to stop by Billy's Bakery and pick up a whole Banana cake to take home. They have great homemade baked goods and it's definitely worth stopping by when you're in the city. Their version of Banana Cake is quite dense with a sugary sweet frosting but I prefer a lighter more tender cake with smooth silky cream cheese frosting.
The trick is to not overbeat the cake batter, especially when adding the mashed bananas which can make the cake gummy and dense. The frosting has lots of cream cheese but the mixing method maintains a billowy fluffy finish.
Best Ever Banana Layer Cake with Fluffy Cream Cheese Frosting recipe
2 ½ cups cake flour
¾ teaspoon baking powder
1 teaspoon baking soda
¾ teaspoon salt
¾ cup unsalted butter, at room temperature
2 cups sugar
3 eggs, at room temperature
1 ½ cups mashed very ripe bananas (about 3 large)
1 ½ teaspoons vanilla
¾ cup buttermilk

1. Adjust racks to center position and preheat oven to 350°F. Butter two 9" cake pans, line with parchment rounds, butter parchment and dust pans with flour and set aside.
2. Sift together flour, baking powder, soda, and salt in a medium bowl. In another small bowl, combine mashed bananas, vanilla and buttermilk; set aside.
3. Cream the butter in a standing mixer with paddle attachment for 1 minute on medium high speed. Reduce speed to medium and slowly add sugar. Increase to medium high and beat for 2 minutes until light and fluffy. Reduce speed to medium and add eggs, one at a time, waiting until each is combined before adding the next.
4. With the mixer on low speed, alternate the dry ingredients and banana mixture in thirds, waiting until each addition is incorporated before adding the next, ending with drying ingredients. Remove bowl from mixer and give final stir with large rubber spatula to combine all ingredients.
5. Pour batter into prepared pans. Bake for 30-35 minutes or untl cake springs back when lightly pressed and a toothpick inserted in center comes out clean.
6. Let cool on racks for 10 minutes and then turn out onto wire racks to cool completely.
7. Frost layers with Fluffy Cream Cheese Frosting.
Fluffy Cream Cheese Frosting
16 tablespoons unsalted butter, softened
4 cups confectioners' sugar
16 ounces cream cheese, cut into 8 pieces, softened
1 ½ teaspoons vanilla extract
Pinch salt

1. With a standing mixer, beat butter and sugar on medium-high speed until fluffy, about 2 minutes. Add cream cheese, one piece at a time, beating each until incorporated. Add vanilla and salt and beat on medium high for 1 minute.
2. When cakes are cooled, spread about 2 cups frosting on one cake layer. Top with second cake layer and spread top and sides of cake with remaining frosting. Serve. Refrigerate leftover cake for up to 3 days, but allow to come to room temperature before serving leftover cake.
James Moore has been a cooking enthusiast since childhood and started blogging as a way to share favorite recipes with friends and family. His site, Cook Like James has grown to include restaurants, cookbooks, wines, and favorite places.