Boston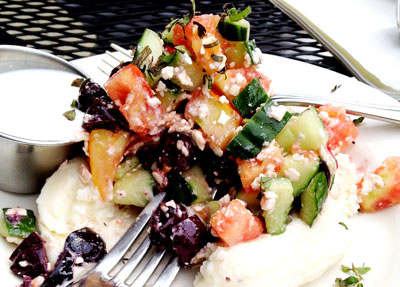 We've had lunches up and down Third Street and we like eating outside. Le bébé is now a contributing eater and she gives Za her approval for whatever she got her hands on which was everything on the table. We agree.
Za's parent is EVOO, right next door. We sat outside for pizza and salad. Listen to this: tomatoes, cucumbers, kalamata olives, radish, feta, and oregano all on a bed of, are you ready, mashed potato. Who ever thought potatoes would outdo crutons; well, it's here and so full we nixed the dressing. Le bébé ate the olives and cucumbers; at this time of year, we agree.
Dilee created our pan pizza (not flat and not quite deep-dish) with bacon and carmelized onion and the 10" splits nicely for two ($10). You can have Black Forest ham, homemade sausage, picked hot peppers, onions, garlic, green pepper, anchovies, chorizo, potabellos and chicken on yours. Mac 'n' cheese pizza fans can roll in it with cream sauce and four cheeses (9.50).