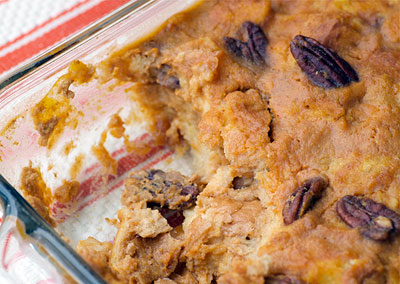 Serves 12-14

This dessert celebrates the flavors of autumn: Rich, moist bread pudding is laced with fragrant pumpkin pie spice and pure maple syrup while earthy pecans provide just the right crunch.

1 (16 ounce) stale French baguette, torn into 1-inch pieces
1 stick butter, melted
1 cup heavy cream
2 cups whole milk
3 large eggs
3/4 cup light brown sugar
1/2 teaspoon salt
1 tablespoon pumpkin pie spice
1 1/4 cups canned pumpkin
1/2 cup pure maple syrup, plus extra for garnish
3/4 cup pecan halves
whipped cream, optional garnish

1. Preheat oven to 350 degrees F. You will need one ungreased 9 X 13 rectangular glass or ceramic baking dish.

2. Place bread in a large bowl. Pour melted butter over it, and toss.

3. In a large bowl, whisk cream, milk, eggs, sugar, salt, pumpkin pie spice, pumpkin, and maple syrup.

4. Place bread in the baking dish. Add pecans (saving a few to scatter on top). Pour pumpkin mixture over bread, and toss until well coated. Scatter remaining pecans over the top of the pudding. Bake for 25-30, or until the top is lightly browned and the custard is set.

Variations:
Toss in 1/2 cup raisins or dried cranberries.
Substitute walnuts or cooked chestnuts for pecans.
Add 3 tablespoons rum.
Drizzle with hot caramel.
--Recipe courtesy of Susan Russo at Food Blogga