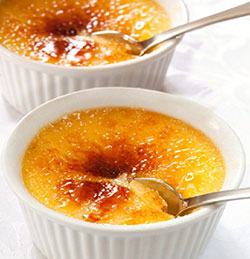 Yields 6 Servings
3 cups heavy cream
1 piece vanilla bean
6 tablespoons sugar
6 egg yolks
1/2 cup brown sugar
In upper part of double boiler, heat 3 cups of heavy cream with the vanilla bean. In a bowl, beat the 6 tablespoons of sugar with the 6 egg yolks until they are light and creamy. Remove from the boiler and take out the vanilla bean. Stir the warm cream into the yolks very carefully and slowly.
Return the mixture to the double boiler, over boiling water. Stir constantly until the custard coats the spoon. Then put into a glass serving dish and place it in the refrigerator to set.
When ready to serve, cover the top of the custard completely with brown sugar, using 1/2 cup or more. Place the dish on a bowl of crushed ice and place custard under broiler flame until sugar melts and caramelizes. Keep watching it or the sugar will burn. Serve immediately.