About radishes...I just love them. Roasting them brings on a whole different flavor that pairs so well with potatoes. We loved this salad. It's rustic, it's different and has a nice tangy vinaigrette. What's nice is using the radish greens in this salad, as they are completely edible. Just remember to wash them well as they can be sandy and full of grit. This is a beautiful side dish for a Spring meal and something different!

Adapted from Cuisine at Home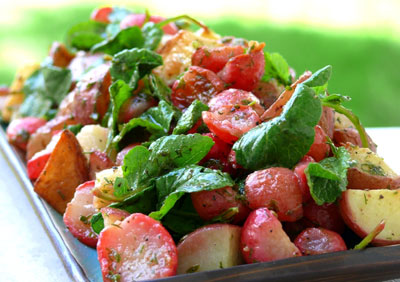 1 lb. radishes, trimmed and quartered (reserve greens)
1 lb new potatoes, quartered
2 Tablespoons olive oil

Vinaigrette:
1/4 cup white wine vinegar
3 Tablespoons olive oil
1 teaspoon Dijon mustard
2 Tablespoons chopped fresh parsley
2 Tablespoons chopped fresh dill
Salt and black pepper to taste

Preheat oven to 425°F with a large baking sheet inside.
Toss radishes, potatoes, 2 Tablespoons olive oil, salt and pepper in a large bowl to coat. Transfer mixture to hot baking sheet in oven. Roast until golden, 20-25 minutes, stirring halfway through roasting.
In the meantime, wash radish greens in several changes of cold water and spin dry. For the vinaigrette whisk together vinegar, 3 Tablespoons oil, Dijon, parsley and dill in a bowl until combined; season with salt and pepper. Stir radish greens into roasted radishes and potatoes and add vinaigrette.
– Recipe courtesy of The Noble Pig