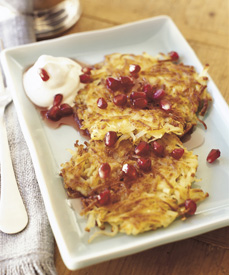 Ingredients
Juice from 4–6 large pomegranates or 2 cups POM Wonderful 100% Pomegranate Juice to make 1 cup pomegranate syrup*
1½ cups sugar
Amy's Potato Pancakes

Garnish:
¼ cup arils from 1 large pomegranate
Sour cream
Directions:
Score 1 fresh pomegranate and place in a bowl of water. Break open the pomegranate under water to free the arils (seed sacs). The arils will sink to the bottom of the bowl and the membrane will float to the top. Sieve and put the arils in a separate bowl. Reserve 1⁄4 cup of the arils from fruit and set aside. (Refrigerate or freeze remaining arils for another use.)
Prepare Amy's Potato Pancakes.
Drizzle with POM Syrup.
Top with a dollop of sour cream and garnish with arils.
*To prepare POM Syrup, cut 4–6 POM Wonderful Pomegranates in half and juice using a citrus reamer or juicer to measure 2 cups, or use 2 cups of POM Wonderful 100% Pomegranate Juice. Combine juice and 1 1/2 cups of sugar in a small saucepan; bring to a boil. Reduce heat and simmer about 20 minutes until reduced to 1 cup, stirring frequently.
Adapted from POM Wonderful