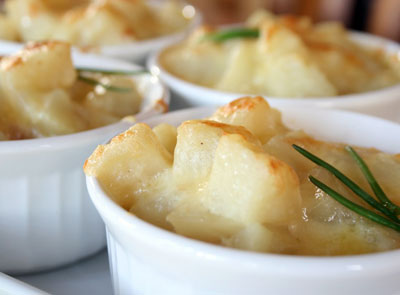 (So good and so easy)
1 to 1 1/2 pounds red potatoes, peeled and cut into cubes
1 1/2 cups whole milk
1 medium onion, peeled and cut into chunks
1 tablespoon all-purpose flour
Salt and pepper to taste
2 tablespoons butter
2 ounces (1/2 cup) grated Cheddar cheese
Preheat oven to 350°F. Lightly butter 1-quart glass baking dish or 4 (6- to 8-ounce) ramekins.
Put potato cubes into prepared dish(es).
Pour milk into blender. Add onion chunks and flour. Process until mixture is smooth. Pour mixture over potato cubes. Dot with butter. Spread cheese over all.
Bake, uncovered, in preheated 350-degree oven for 1 1/2 hours or until the potatoes are tender.
Tips from the cook:
I find the cheese gets very dark brown after 1 1/2 hours in the oven. I often bake the dish without the cheese for 60 minutes, then add the cheese for the last 30 minutes or so. I like the cheese to get golden, but not so dark that it looks burned.
For more depth of flavor, I sometimes skewer a chubby clove garlic and a bay leaf on a toothpick and dunk it into the potatoes, just along the side of the dish, before baking. At serving time, I pull out the pick that is still holding the garlic and bay leaf.
I like using white sharp cheddar cheese for these scalloped potatoes.
- Recipe courtesy of Sue Doeden