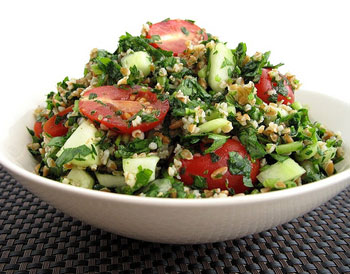 1 cup bulgur
2 bunches parsley, leaves coarsely chopped, stems finely chopped
1/4 cup finely chopped mint leaves
1 bunch scallions, thinly sliced diagonally
1 long cucumber, peeled,seeded, and diced
1 pint cherry or grape tomatoes, halved
1/4 cup lemon juice (about 1 lemon)
1/4 cup extra-virgin olive oil
2 teaspoons fine sea salt
1 teaspoon freshly ground black pepper

Soak bulgur in 1-1/2 cups boiling water for 1 hour.

Combine bulgur with parsley, mint, scallions, cucumber, and tomatoes; toss to combine. Dress with lemon juice and olive oil. Season with salt and pepper. Toss to combine. Yield: 6 to 8 servings.
Recipe courtesy of Gastronomer's Guide.