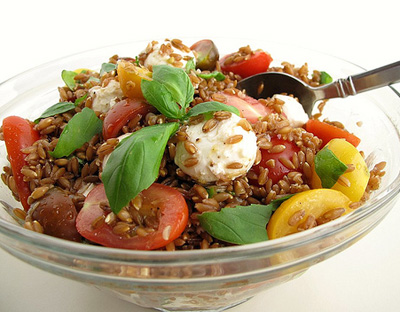 1 pound farro, rinsed
fine sea salt
freshly ground black pepper
olive oil
red-wine vinegar
1 pound bocconcini
12 ounces mixed heirloom cherry and cocktail tomatoes, halved or quartered depending on size
1/2 cup basil leaves, torn
Boil farro in liberally salted water until tender, about 30 to 40 minutes. Drain farro and spread on a tray to cool to room temperature.
Add farro to a large mixing bowl. Season with salt and pepper and drizzle with oil and vinegar to taste. Toss to coat evenly. Fold in bocconcini, tomatoes, and basil. Serve at room temperature or chill for at least 2 hours before serving.
Yield: 8 servings.
Recipe courtest of Gastronomer's Guide