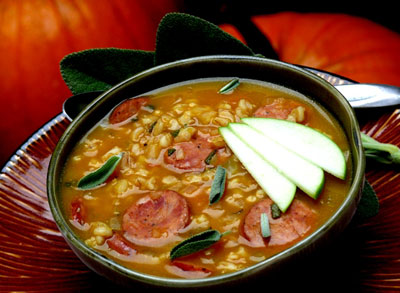 From BHG

8 oz. cooked andouille or smoked sausage links, sliced
1 small onion, chopped
1 Tablespoon snipped fresh sage
1 Tablespoon vegetable oil
1 cup quick-cooking barley
1 teaspoon instant chicken bouillon granules
1 15 ounce can pumpkin puree
2 Tablespoons maple syrup
1 Tablespoon cider vinegar
Garnish with green apple slices and additional fresh sage

In a 4-quart saucepan or Dutch oven cook sausage, onion and sage in hot oil over medium heat 3 minutes, stirring often. Add barley, 4 cups water and bouillon granules. Bring to boiling. Reduce heat; simmer, covered, 12 minutes, stirring occasionally.

Stir in pumpkin, maple syrup and vinegar; heat through. Season to taste with salt and pepper. garnish with apple and more sage.
- Recipe courtesy of Cathy Pollak and her blog noblepig.com.