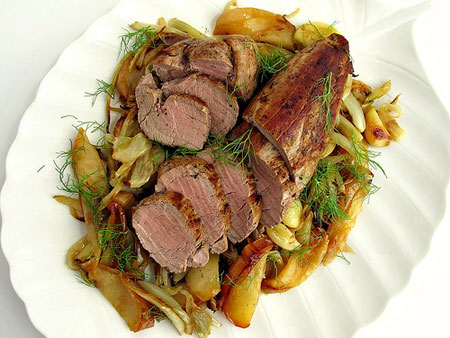 Note: Don't throw away the fennel stalks and extra fronds. Use the vegetable scraps to make stock. You save money and gain flavor at the same time.
1 large bulb fennel, cored and thinly sliced, 1/4 cup fronds reserved
2 Fuji apples, sliced
6 garlic cloves
olive oil
fine sea salt
freshly ground black pepper
2 tablespoons finely chopped thyme
3 tablespoons butter, at room temperature
canola oil
1 pound pork tenderloin
Preheat oven to 425 degrees F.
On a large rimmed baking sheet, toss fennel, apples, and garlic with a good drizzling of olive oil. Season with salt and pepper. Place in oven.
Combine thyme and butter in a small bowl to form an herb butter.
Heat a large skillet or sauté pan over medium-high to high heat.
Liberally season pork with salt and pepper. Spread outside with herb butter.
Add a good drizzling of canola oil to the hot pan. Sear pork all over until golden brown, about 10 minutes total.
After 10 minutes, toss the fennel and apples. Push them toward the edges of the pan to make room for the loin. Add the seared pork loin to the pan and roast for 15 minutes or until a meat thermometer inserted into the center reads 145 degrees F. Remove pork to a carving board and let rest, tented with aluminum foil. Cut pork diagonally into 1/4-inch thick slices. Add apples and fennel to a serving platter. Discard garlic if desired. Top vegetables with sliced pork. Garnish with fennel fronds. Serve immediately. Yield: 4 servings.
-Recipe courtesy of Joseph Erdos