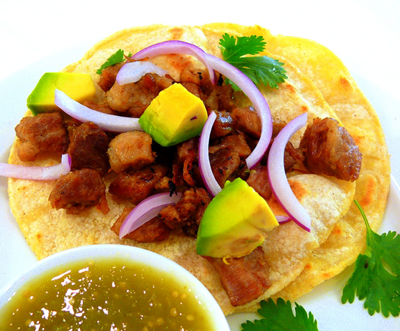 Adapted from Martha Stewart's Everyday Food
2 pounds boneless pork shoulder, cut into 1-inch pieces
4 garlic cloves, crushed
coarse salt and ground pepper
1 Tablespoon olive oil
1/2 cup fresh orange juice
1/2 cup milk
12 white corn tortillas, warmed
Fresh cilantro leaves, thinly sliced onion, diced avocado, green salsa and lime wedges for serving
In a large Dutch oven or heavy pot, combine pork, garlic and 8 cups water; season with salt and pepper. Cover and bring to a boil. Reduce to a simmer and cook covered for 45 minutes. Drain well.
In a large nonstick skillet (or the same Dutch oven) heat 1 Tablespoon olive oil over medium-high heat. Add pork, 1/2 cup fresh orange juice and 1/2 cup milk and cook, stirring occasionally, until liquid has evaporated and pork has browned, 8 to 12 minutes. The pork will start browning after liquid has evaporated. Season well with salt and pepper.
Serve carnitas in tortillas with cilantro, onion, avocado, green salsa and squeeze some lime juice over the meat.
- Recipe courtesy of Cathy Pollack