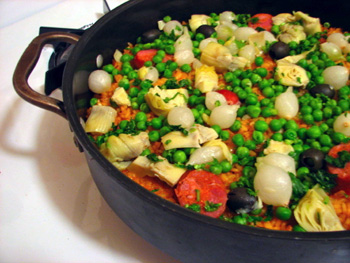 Serves 4

4 cups liquid, a combination of broth, water and juice from toppings (see below)
1 tablespoon tomato paste
Large pinch saffron threads
2 teaspoons paprika, preferably Spanish pimentón (smoked paprika)
2 1/2 cups toppings--cooked vegetables, seafood, meat (such as peas, artichokes, green olives, red peppers, shrimp, chicken, sausage)
Salt and freshly ground black pepper
1/4 cup extra virgin olive oil
2/3 cup onion, minced
1 tablespoon minced garlic, about 2 large cloves
2 cups preferably Spanish or other short-grain rice
Minced parsley for garnish
Lemon wedges

Preheat oven to 450 degrees. Combine stock and water with tomato paste, saffron and paprika in a saucepan and heat.
Put oil in a 10- or 12-inch ovenproof skillet over medium-high heat. Add onion and garlic, sprinkle with salt and pepper, and cook, stirring occasionally, until vegetables soften, 3 to 5 minutes. Add rice and cook, stirring occasionally, until it is shiny, another minute or two. Add liquid and stir until just combined.

Put pan in oven and roast, undisturbed, for 15 minutes. Check to see if rice is dry and just tender. If not, return pan to oven and continue cooking for another 5 minutes. If rice is dry but still is not quite done, add a small amount of stock or water or white wine. Amount of liquid will vary depending upon the size of your pan. When rice is ready, turn off oven, sprinkle toppings on rice and cover with lid or foil. Let pan sit in the oven for 5 to 15 minutes. Sprinkle with parsley and serve with lemon.
- Recipe courtesy of Amy Sherman