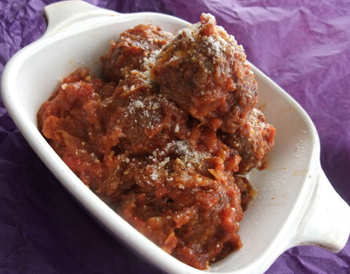 Makes 16 meatballs, 4-5 servings

1/2 pound Italian sausages, casings removed
1/2 pound lean ground beef
1 cup fresh bread crumbs
1 Tablespoon dehydrated toasted onion flakes
1 egg
1/2 cup milk
3 Tablespoons fresh Italian herbs, chopped (such as parsley, basil, oregano) or 3 teaspoons dried Italian herbs
Spaghetti sauce, jarred or homemade

Preheat oven to 400 degrees.

In a large mixing bowl gently combine the sausage and beef. Add the bread crumbs, onion, egg, milk and herbs. Combine using your hands, but try not to handle the meat too much. Form into about 16 meatballs. I do this by dividing the mixture into 4 portions and then dividing each portion into another 4 portions.

Place meatballs on a non-stick rack, set in a foil-lined sheet pan and bake undisturbed for 20 minutes. Meanwhile simmer spaghetti sauce in a large dutch oven. Remove meatballs and transfer to the simmering sauce, allow meatballs to cook in the sauce for 10-20 minutes. Serve with pasta or use in a meatball sandwich.
Also published on Cooking with Amy