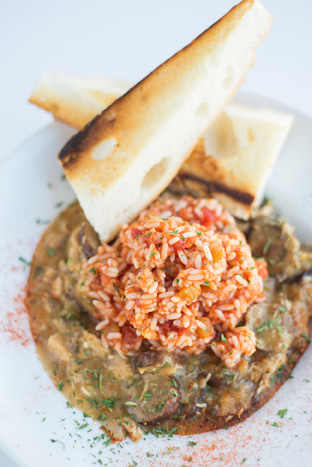 Ford's Oyster House and Cajun Kitchen in Greenville, SC recently introduced a new dish called *Gumbalaya*. It's a modern mashup of a Cajun classic, and is the perfect food hybrid of Gumbo and Jambalaya and something new to try for your Mardi Gras celebration. - Serves 6
For Gumbo - Serves 6
4 Tbsp Butter
1/2 cup Flour
3 cups chicken stock
1/3 cup green peppers (diced)
1/3 cup celery (diced)
1/3 cup onion (diced)
2 Bay leaves
1/4 teaspoon oregano
1/4 tsp dried thyme
2 teaspoons Crystal hot sauce
2 teaspoons Creole seasoning
1/4 teaspoon black pepper
1/4 teaspoon Cayenne pepper
1 lb. chicken boneless skinless breasts
1 lb. Andouille sausage
1. Preheat oven to 350 degrees Fahrenheit. Place chicken in a roasting pan and cook for 20 minutes. Let it stand for five minutes after taking it out of the oven, then cut into half inch pieces.
2. Cook Andouille sausage in the oven for 8 minutes at 350 degrees F. Let it stand for 5 minutes before cutting into half inch slices.
3. Take butter and flour place in large saucepot. Turn on medium heat and cook while stirring constantly until it becomes a light chocolate color.
4. Add green peppers, celery, onion, chicken, Andouille sausage, and bay leaves.
5. Add chicken stock to the saucepot with the vegetable mixture, stirring constantly so the roux fully incorporates with the stock.
6. And cayenne pepper, black pepper, Creole seasoning, thyme, oregano, and hot sauce. Let the gumbo cook for 15 minutes. Add salt as needed.
For Jambalaya Sauce
1 Tbsp olive oil
1/4 cup celery, diced
1/4 cup onion, diced
1/4 cup bell pepper, diced
1 teaspoon fresh thyme, chopped
1 teaspoon fresh oregano
Pinch of Cayenne pepper
Pinch of black pepper
1 teaspoon Creole seasoning
2 teaspoons crushed red pepper flakes
1 Tbsp Crystal hot sauce
3 cups basic Marinara sauce
Salt to taste
2 cups cooked white rice
1. Place olive oil in a medium saucepot.
2. Add celery, onion, and bell pepper to pot and cook for 5-6 minutes.
3. Add garlic, fresh thyme, oregano, cayenne, Creole seasoning, crushed red pepper flakes, and Crystal hot sauce.
4. Lastly, add the marinara sauce and simmer for 10 minutes. Salt to taste.
To make Gumbalaya:
1. Prepare gumbo
2. Prepare jambalaya sauce
3. Add 2 Cups of cooked white rice to jambalaya sauce
4. Serve gumbo in bowl with a heaping scoop of jambalaya/rice mixture