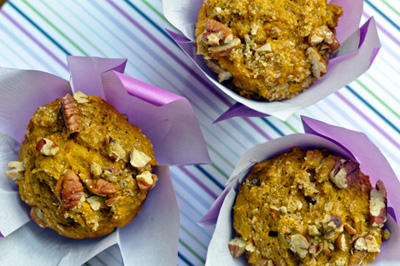 Adapted from My Home to Yours
Yield 16 muffins
Ingredients:
2 cups flour
2 teaspoon baking powder
1/4 teaspoon baking soda
1/4 teaspoon salt
3/4 teaspoon cinnamon
1/2 teaspoon ground ginger
4 oz. unsalted butter, room temperature
1/2 cup sugar
1/4 cup light brown sugar
2 large eggs
1/2 teaspoon vanilla
3/4 cup sweet potato puree
1/4 cup buttermilk
1/3 cup dried cranberries
3/4 cup chopped pecans, toasted
Instructions:
Preheat oven to 400°F. spray 16 muffin tins. Place the muffin tin on a baking sheet.
Whisk the flour, baking powder, baking soda, salt and spices.
In a standing mixer fitted with the paddle attachment, beat the butter until soft. Add both sugars and beat until smooth.
Add the eggs, one at a time and then the vanilla. Add the puree and the buttermilk.
With the mixer on low speed, add the dry ingredients, don't over mix. Stir in the dried cranberries, and 1/2 cup of pecans.
Scoop into each muffin cup. Sprinkle with remaining 1/4 cup of pecans.
Bake for about 25 minutes or until a thin knife inserted into the center of the muffins comes out clean. transfer the pan to a wire rack and cool the muffins for 5 minutes. carefully remove each muffin from the pan and cool on a wire rack.
Susan Salzman writes The Urban Baker blog to explore her dedication to good food in the hope of adding beauty to the lives of her family and friends.