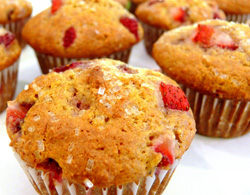 Adapted from Culinary Wannabe via the back of her yogurt container

1 cup all-purpose flour
1 cup whole wheat flour
1/2 cup granulated sugar
1-1/2 teaspoons baking soda
1 cup chopped strawberries
2 eggs
1 cup yogurt (I used nonfat vanilla)
1/4 cup butter, melted
1 teaspoon vanilla extract
Coarse sugar (optional)
In a medium bowl whisk together all-purpose flour, whole wheat flour, sugar and baking soda. Stir in strawberries. Set aside.
In a large bowl, whisk together eggs, yogurt, butter and vanilla extract. Gradually stir the dry ingredients into the wet until well combined.
Divide batter evenly among a 12-cup greased muffin tin or line with paper liners. If you want strawberries to stay at the top of your muffins, cut up a few extra and place several pieces on top of the batter in each muffin cup. I also sprinkled each muffin with coarse sugar. Bake for 18-25 minutes in a 375 degree oven until the tops are golden brown. Mine were done in 18 minutes at this temperature.
Remove immediately from muffin tins and cool on a wire rack.
Cathy is currently in the development stages of her vineyard and winery in the Willamette Valley of Oregon. She is a food writer for Davis Life Magazine and blogs daily about wine, food and everyday living. She currently resides in Northern California with her husband and two sons. You can visit her at noblepig.com.