Recipe created by Noble Pig | Serves: 23 muffins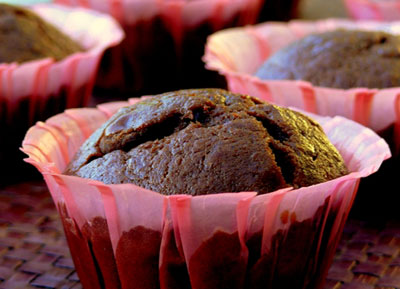 Ingredients:
3 cups

all-purpose flour

2/3 cup

unsweetened cocoa

1 teaspoon

baking powder

1/2 teaspoon

table salt

1 Tablespoon

chile powder

1-3/4 teaspoons

cayenne pepper
2 cups

sugar

2 large

eggs

4

very ripe bananas

1/2 cup

buttermilk

1 cup

semi-sweet chocolate chips
Directions:
Preheat oven to 375 degrees F. In a large bowl, add flour, cocoa, baking powder, salt, chile powder and cayenne. Sift together to combine. Set aside.
In the bowl of a stand mixer, add sugar, eggs, bananas and buttermilk. Blend until thoroughly combined. Add flour mixture alternating with buttermilk and ending with flour. Mix just until combined. Fold in chocolate chips.
Add 1/4 cup batter to each muffin liner and bake for 25 minutes or until done.
Cool for five minutes in the pan and remove to a wire rack to cool completely.
- Recipe courtesy of Cathy Pollak