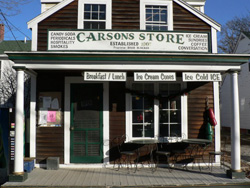 I live in Groton Long Point, an insular, happily stuck-in-the-50s beach community, predominantly Republican. There's a sweet little town next door called Noank, another of our New England miracles, formerly a small fishing village, at the mouth of the Mystic River. Carson's Store is in the heart of Noank and it's where the regulars and summer visitors gather for breakfast or lunch, or the occasional fund-raising soup or fish 'n chips dinner. Friday nights in the summer, they have musical events outside the store and everyone brings chairs and tables and picnics which they set up on both sides of the street. Traffic and stray cats are never regulated in Noank, so the cars just pick their way carefully through the musical events and the audience.
The Super Bowl is much more important than Super Tuesday in Noank and in Groton Long Point. "My" Republicans, as I like to call them, as if they were fractious children who have to be taught "King and I" fashion, are in disarray right now. Some are leaning toward Romney, probably mainly on the grounds that anyone who has been the Governor of a state which has produced the miracle of the Patriots and the Red Sox can't be all that bad. They'll also be OK voting for McCain and staying in Iraq, as some of the more candid ones readily admit "Face it, we need the oil"...
I have been proselytizing about Barack Obama for many years now, which is why "my" Republicans know him better than most my fellow Democrats in town, most of whom can't even spell his name. My Republicans actually like Barack. They just don't want him to spend any of their money. Property taxes are the most critical issue here, and have caused many lifelong residents to have to move out because they have almost tripled over the last 10 years. I work 6 weeks a year to pay my property taxes. Connecticut doesn't seem to be able to find a solution to this issue and the resulting number of houses for sale and friends leaving is heartbreaking.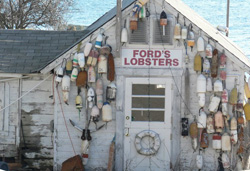 Most of my politically and environmentally committed friends live in Noank. The population of which is prototypical New England coastal. There are a few retired boat captains but very few working fishermen any more, though we have 3-4 lobstermen working out of Ford's Lobsters (See photo!), the best place to buy fresh lobsters. There are many beautiful small houses and sheds in Noank, shepherded by the pristine white steeple of the Baptist Church.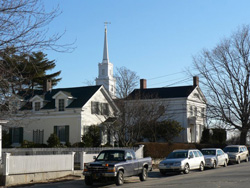 Unfortunately, "Noank The Paradise" has been discovered and yuppies are moving in, razing the small houses to build McMansions totally out of character with the rest of the town. This is driving up property values beyond most existing residents' means. The residents could have chosen to stop the McMansion invasion and applied to get a Historic District designation to limit the size and architecture of the houses, but many of the residents are free-market, fiercely independent New Englanders who fought this on the grounds that this would diminish their windfall property values. My brilliant friend Elissa Wright, who is our State representative, following in the tradition of her father Mortimer Wright, is endorsing Barack Obama, to my delight.


Banana Bread French Toast
Courtesy of Loretta Lane, Manager Carson's Store

Bread recipe

1 1/4 cup sugar
1/2 cup butter
3 ripe bananas
1/2 cup milk (Buttermilk is best)
1 teaspoon vanilla
2 1/2 cups flour (oat flour is best)
1 teaspoon baking soda
1 teaspoon salt

Mix all the ingredients and divide into 2 loaves. Bake at 350°F for 30-45 minutes.

French Toast Recipe:

Slice banana bread and dip into mixture of beaten egg and milk. Cook on hot buttered griddle. Enjoy with maple syrup!
German Apple Pancake

Pre-heat oven to 450°F
Batter:
3 eggs
3/4 cup whole milk (preferably Connecticut Farmers!)
3/4 cup white flour
1/2 teaspoon salt
1 1/2 tablespoon butter – for pan

Mix eggs, milk, flour and salt. Butter a 12" iron skillet.
Pour batter in skillet and heat on stovetop for 15 minutes.
Bake in oven at 450°F for 10 minutes (becomes a big puff!)

Topping:
Separately, cook Granny Smith and other apples (3 or 4) to mush. Add sugar if desired.

Act quickly: Just before serving, place cooked hot apples on top of puff. Serve at table in the iron skillet. (In summer, use crushed fresh strawberries and whipped cream for example!)