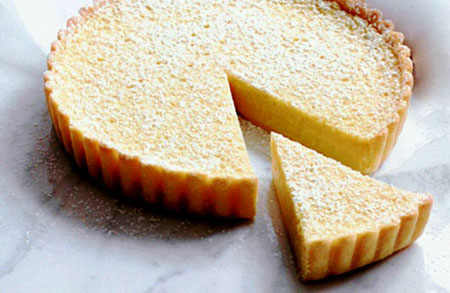 1 stick unsalted butter
2 tablespoons finely grated lemon zest
1 3/4 cup flour
1 1/4 cup sugar, divided
2 pinches salt
6 large eggs
1 cup fresh lemon juice
1/2 cup of heavy cream
1. Position rack in middle of oven and preheat to 350°F. Have ready an 11" tart pan.
2. Melt the butter in a small saucepan. Add 1 tablespoon of the zest and let stand for 5 minutes.
3. Whisk together flour, 1/4 cup sugar and a pinch of salt in a medium bowl. Pour the butter mixture in a fine stream, stirring with a fork, and continue stirring just until the dough comes together. Transfer the dough to the pan and press into sides and across the bottom. Bake tart for 20 minutes, or until the crust is a light golden brown. Let cool while making the filling.
4. Process the remaining cup of sugar with the remaining 1 tablespoon of zest and process until zest is finely ground.
5. Whisk together eggs, zest mixture, lemon juice and pinch of salt in a medium bowl until smooth.
6. Beat the cream with an electric mixer until it forms soft peaks. Whisk the cream into the egg mixture just until blended.
7. Place a baking sheet in the oven, place the crust on the sheet and pour the filling into the still warm crust. Bake 25-30 minutes or until filling is just set in the center.
8. Cool completely and dust with confectioners' sugar.
- Recipe courtesy of James Moore