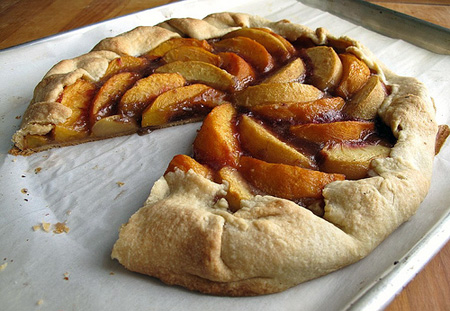 Peach Galette
2 pounds ripe peaches (about 4 or 5 large), peeled and cut into eighths
1 tablespoon lemon juice
1 tablespoon potato starch
1/4 cup light-brown sugar
1/4 teaspoon salt
1/4 cup ground walnuts
Preheat oven with pizza stone to 400 degrees F.
Combine lemon juice, potato starch, sugar, and salt; pour over peaches. Toss carefully to coat. Let macerate for 10 minutes.
Roll out dough on a sheet of lightly floured parchment paper to 13 inches in diameter. Carefully lay dough with parchment paper on a baking sheet.
Spread ground walnuts on the dough within 2 inches from the edge. Arrange peach slices in a decorative pattern over the ground walnuts. Pour in remaining juices. Fold up the 2-inch border of the dough, overlapping when necessary. Bake for 40 minutes until the peach juices are bubbling and the crust is golden brown. Yield: 6 servings.
Crust
1-1/4 cups all-purpose flour
2 tablespoons granulated sugar
1/4 teaspoon salt
1/2 cup (1 stick) unsalted butter, chilled, cut into small pieces
3 to 4 tablespoons ice water
In a large bowl, combine flour, sugar, and salt. Mix together with a whisk to aerate
Add butter and work with a pastry blender until mixture resembles course meal.
Add water 1 tablespoon at a time. Mix until dough comes together.
Form the dough into a flat disc and wrap in plastic. Chill for at least 1 hour before rolling.
- Recipe courtesy of Joseph Erdos