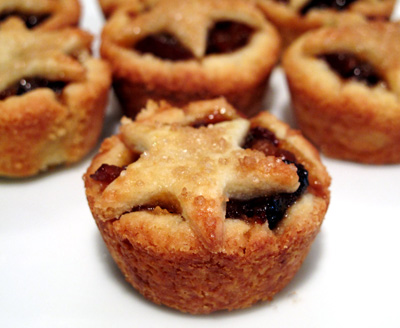 Filling:
3 Granny Smith apples, large (about 1 1/2 pounds), peeled, cored, and cut into 1/4-inch dice
3 McIntosh apples (or Macoun, Royal Gala, Empire, Cortland), large (about 1 1/2 pounds), peeled, cored, and cut into 1/4-inch dice
1 cup dark raisins
1 cup sultanas (golden raisins)
1 cup currants
1/4 cup dried cranberries or dried cherries
1 cup packed dark brown sugar (7 ounces)
1/4 cup granulated sugar
10 tablespoons unsalted butter (1 stick plus 2 tablespoons)
1/4 cup diced candied orange peel, (homemade or available online)
Grated zest and juice from 1 orange
Grated zest and juice from 1 lemon
1 teaspoon ground cinnamon
1/2 teaspoon ground allspice
1/2 teaspoon ground ginger
1/4 teaspoon ground cloves
1/4 teaspoon freshly grated nutmeg
1/4 teaspoon salt
1 1/2 cups apple cider, plus more as needed
1/3 cup rum or brandy
Crust:
1 1/2 cups unbleached all-purpose flour (12 1/2 ounces), plus more for dusting work surface
3 tablespoons sugar
1/2 teaspoon salt
12 tablespoons cold unsalted butter (1 1/2 sticks), cut into 1/4-inch pieces
5 tablespoons cream cheese, cold
1 egg white, beaten, for glazing pastry stars
1 tablespoon sugar or turbinado for sprinkling over crust
For the filling:
1. Place all ingredients except 1/2 cup cider and rum in large, heavy saucepan set over medium-low heat. Bring to boil and simmer gently, stirring occasionally to prevent scorching, until mixture thickens and darkens in color, about 2 ½ to 3 hours, adding more cider as necessary to prevent scorching.
2. Continue cooking, stirring every minute or two, until mixture has jam-like consistency, about 20 minutes. Stir in remaining 1/2 cup apple cider and rum and cook until liquid in pan is thick and syrupy, about 10 minutes; cool mixture. (Mince filling can be refrigerated for several days to improve flavor.)
For the crust:
1. Process flour, sugar, and salt in food processor until combined. Add butter pieces and cream cheese and process until mixture is the size of small peas about 20 pulses. Then process until mixture just comes together, about 15-20 seconds.
2. Place the dough on a piece of plastic wrap and press together to form large even mass. Divide dough into 3 sections and refrigerate the remaining section. Pinch off 24 pieces of dough (12 from each section) and roll them into balls in the palm of your hand (about 1" balls). Place them on a plate and refrigerate for 30 minutes.
3. Remove remaining section from refrigerator and place on lightly floured surface. Roll out with floured rolling pin to 1/8" thick (make sure dough doesn't stick to surface. Cut into 1" star shapes or 1¼" rounds. Arrange on small tray or plate and place in freezer.
4. Preheat oven to 375°F and adjust rack to middle position. Lightly grease a 24 mini muffin tin with butter.
5. Remove balls from the refrigerator and flatten each one with your fingers. Press them gently into the muffin cups so that the edge of each comes 1/8" above the rim. Make sure not to make a hole or tear the dough. Place tin in the freezer for 15 minutes to chill the dough.
6. Remove stars from freezer. Beat egg white with 1 teaspoon of water and brush each star (or round) with egg wash. Sprinkle with sugar or turbinado sugar.
7. Remove tarts from freezer and fill with mince filling - about 1 rounded teaspoon each. Top with pastry star (or round).
8. Bake 20-25 minutes until the pastry is a rich golden brown. Cool the tartlets completely in the pan. Run a little butter knife around the edge of each tart, and use the knife to gently lift the tart out of the pan.
9. These are great the day they are baked. You can also store them in an airtight container or freeze them for up 2 weeks.
- Recipe courtesy of Cook Like James