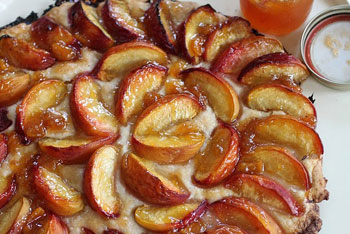 Tart Dough
2 cups of all purpose flour
½ teaspoon of salt
1 tablespoon of sugar
1 ½ sticks of butter
½ cup of ice water
Combine the dry ingredients with your fingers in a large mixing bowl. If using a food processor, then just pulse to mix.
Slice the cold butter into cubes and mix with hand mixer or pulse in food processor until the dough begins to clump into a ball and the butter is pea size or smaller.
Pour the ice water into the mixture, slowly, continue mixing simultaneously until ball of dough is formed.
On a floured surface, roll the dough into a large "pat" and chill for about an hour.
After chilling, roll or spread out the dough into your desired shape…the rustic feel of an imperfect circle or rectangle is what makes the simple elegance of this dessert so pretty.
Slice 6 or so peaches into wedges and arrange on the dough to suit your own fashion. Cover with sugar, about half a cup, depending on the sweetness of the fruit and your own sweet tooth.
Bake at 350°F for about 45 minutes or until the dough is golden brown… Glaze with peach jam or preserves and serve with a dollop of peach preserves as well. Whipped cream ain't bad either!
- Recipe courtesy of James T. Farmer III from his blog All Things Farmer.