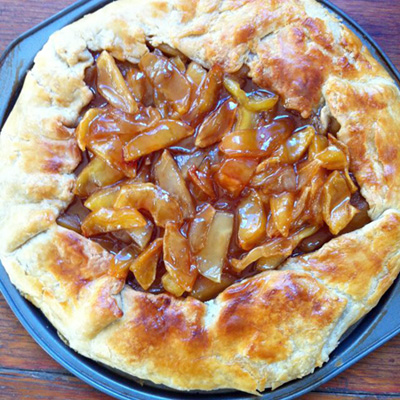 1 recipe of your favorite pie dough (or GASP purchased pie dough)
7-10 apples, peeled
1-1/2 to 2 cups sugar (divided)
Pinch of kosher salt
1/4 lb. unsalted butter (or more if you wish)
Cut the apples off the core then into slices just under 1/2″ thick.  Don't make the slices too thin;  by the time you cook them they'll dwindle down to nothing.
Put the apple slices in a bowl and toss with 1 cup of the sugar and a pinch of salt.  Let sit for at least half an hour so the apples soften a bit and start to release their juices.  You don't have to do this step but it makes the cooking go faster.
Melt the butter in a sauté pan large enough to handle the apple slices in a single layer or cook the apples in two batches.  Add the apples and their accumulated juices.  Cook over high heat until the juices start to evaporate.  As the apples start to cook add more sugar if your palate dictates.  (I ended up using about 1-1/ 2 cups for this tart.  It will depend on how tart your apples are).
Continue cooking the apples over high heat until there are caramelized spots over most of the apple slices and the juices have thickened with the butter and sugar to form a loose caramel.  Remove the pan from the heat and carefully scrape the apples and caramel into a bowl to cool.
The apples must cool before you can make the gallette or else the dough will melt.
Roll your dough out to a 1/4″ thickness.  Carefully move the rolled circle to a round pizza pan or a large cookie sheet.  If the idea of moving the tart off the pan once baked scares you then line the pan with parchment paper before putting the rolled dough on the pan. Scatter the apples in a very thin layer over the circle, leaving an uncovered border for you to fold over.  Gather up the untopped edges and fold them up.  Brush the dough with an egg-cream wash and bake in a 375 degree oven until the pastry is beautifully browned and the apples are nearly translucent.
- Recipe courtesy of Evan Kleiman's blog http://www.evankleiman.com/