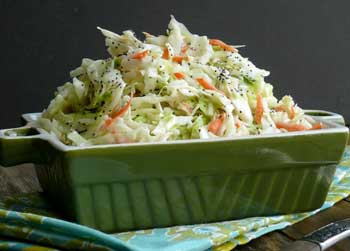 Tarragon Coleslaw
Serves: 8-10
Ingredients:
1/2 cup mayonnaise
1/4 cup whole milk
2 tablespoons tarragon vinegar
1/3 cup sugar
1 Tablespoon minced white onion
1 Tablespoon fresh lemon juice
1/2 teaspoon salt
1/8 teaspoon black pepper
2 (14-ounce) packages coleslaw mix
1-1/2 Tablespoons poppy seeds
Directions:
In a large bowl, whisk together mayonnaise, milk, tarragon vinegar, sugar, onion, lemon juice, salt and pepper. Add the coleslaw mix and toss until well coated.
Cover and chill for at least 2-3 hours. Add poppy seeds right before serving.
- Recipes courtesy of Cathy Pollak