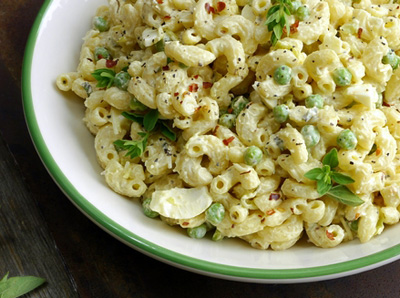 Created by Cathy Pollak | Serves: 10
Ingredients:
3/4 cup mayonnaise
1/4 cup horseradish
1/4 cup sour cream
1/2 cup shredded Parmesan cheese
1/3 cup finely chopped peperoncini
1/3 cup peperoncini juice (from the jar)
1 Tablespoon fresh lemon juice
2 Tablespoons fresh oregano, minced
1/2 teaspoon coarse ground black pepper
1 teaspoon red pepper flakes
1 pound elbow macaroni, cooked al dente and cooled
4 large hard boiled eggs, chopped
1/2 cup frozen peas, thawed
Directions:
In a large bowl combine mayonnaise, horseradish, sour cream, Parmesan, peperoncini, peperoncini juice, lemon juice, oregano, black pepper and red pepper flakes. (You can easily make this part a day ahead. Don't worry if the consistency is thin, the pasta will soak it all up.)
Add pasta, eggs and peas to the mayo-horseradish mixture; combine well. Place in the refrigerator for several hours before serving.
- Recipe courtesy of Cathy Pollak