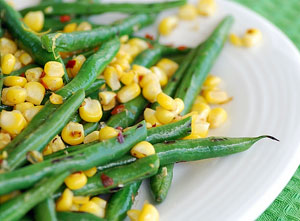 Makes 4-6 servings
1 tablespoon olive oil
1 pound string beans, ends trimmed
2 cup corn kernels, preferably fresh
zest and juice of 1 small lemon
a generous sprinkling of salt
1/4 teaspoon crushed red pepper flakes
1/3 cup fresh parsley, chopped

1. In a large skillet over medium-high heat, warm oil. Add string beans, and cook for 2-3 minutes. Add corn kernels, and cook for 3-5 minutes, or until brown spots begin to appear on the vegetables. Add the lemon zest, lemon juice, salt, and crushed red pepper, and stir well. Add the fresh parsley, stir, and remove from heat. Serve hot or at room temperature.

Variations: Butter can be substituted for olive oil; also basil, cilantro, or mint are delicious alternatives to parsley.
-Recipe courtesy of Susan Russo at Food Blogga