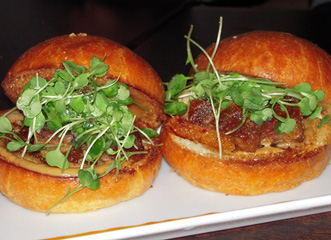 So what to cook for Father's Day? Pork belly sliders have been all the rage for the last few years. Made über popular by food dude David Chang of Momofuko fame, this dish has popped up on menus throughout the US. And we know the French and the Germans also love their various preparations of this cherished cut of swine. However, truth be told, this deliciously rich delectable treat has been cooked in China for eons. But certain restaurants exploit the average human being's addiction to fatty pork – you know which ones I'm talking about – these joints know their patrons can't get enough of that heavenly mix of tangy sweet fatty meat all sauced up in basically a fancy hamburger roll, so they price these little ditties as if they were serving Kobe beef (even though belly is rarely more than 3 bucks a pound, if that.)
Pay 10 bucks or whatever exorbitant price for 2 ounces of pork if you must, but these are really easy to prepare for a crowd. And the great thing about cooking pork belly sliders is that there is really no heavy lifting in preparing them. In fact it is almost impossible to screw it up because pork belly can be cooked and cooked and even (as I have done on occasion) forgotten about and still come out perfect. The most important thing you need to know about this dish is that pork belly loves sugar and soy sauce – and so even if you screw up on the following proportions it will still come out just fine. (One note in buying pork belly look for the meatiest pieces.)
INGREDIENTS
2 pounds pork belly (if you can get a belly with bones attached buy it because the bone marrow adds a wonderful flavor to this dish which must cook for 4 hours) cut into 4 to 6 pieces
1 large leek, cut into 6 or 8 pieces
6-8 cloves of garlic mashed
2-inch piece of ginger sliced in 1/8 inch slices
3/4 cup soy sauce
1/2 cup apple cider or balsamic vinegar
Water – depending on how big your pot is you will need 1 to 3 cups or enough liquid to cover the pork by at least 2 inches.
1/4 cup brown sugar or 2 heaping tablespoons of rock sugar (usually sold at an Asian or Chinese market)
1/4 cup sake or dry sherry or if you have it Chinese cooking wine better known as Shaoxing wine
2 star anise (usually sold at an Asian or Chinese market)
1 teaspoon szechuan peppercorn or dried hot chili peppers (optional)
3 tablespoons canola or peanut oil
Slider Fixings
1 cup very very thinly sliced fresh cabbage or celery or fennel or carrots (use a mandolin if you have one) – anything really crisp to act as a foil to the pork. If you want to add an extra touch: after the veggie is sliced put it in a bowl and toss with a pinch of salt, cider 0r balsamic vinegar and lemon or lime juice and let sit for at least 1/2 hour.
Hoisin sauce or your fave hot sauce or BBQ sauce (optional)
Hamburger rolls or for you fancy dudes and dudettes brioche and if you really want to blow the sides out of this dish make it on a Friday or Saturday night so you can get a get a fresh loaf of challah.
DIRECTIONS
1. Heat large sturdy pot (big enough to comfortably hold the pork) to medium heat then after 30 seconds add oil. When oil begins to smoke add the pork and brown well, turning it with a large spoon or spatula. If you want before this next step you can pour off most of the oil that has accumulated. Just be careful not to burn yourself like I sometimes do when I perform this step.
2. Lower the heat and add the leeks, garlic, ginger and hot pepper and toss well with pork for about 1 minute.
3. Add all remaining ingredients and mix in thoroughly. No matter what any other chef or recipe tells you there is really no science to the order in which you mix these ingredients – just dump it all in and mix thoroughly.
4. Cover and cook for 4 hours (you can maybe remove it at 3 1/2 hours, but be patient and let the heat do its magic – you can also leave it in for 5 hours but just check the water levels.)
5. With a slotted spoon remove the pork and set aside.
6. Turn heat to medium high and uncover and cook down until there is about 2 cups of liquid left. Remove and strain liquid.
7. Slice pork (it will fall apart as you do this so use a sharp knife) into 1/2 inch slices.
8. Pour strained liquid back in pot, turn heat to medium and add pork. Cook until about 1/2 the liquid is absorbed back into the meat.
SERVING
Steam or throw the rolls in the microwave for 20 seconds (you can also skip this step but the whole eating experience is heightened by this step) then take a few slivers of pork put on one half of the roll, then put on a dab of hoisin sauce (or your favorite hot sauce) then the shredded veggie and then a drizzle of the left over sauce in the pot.
Serves 4 to 6
Paul Mones ©2009