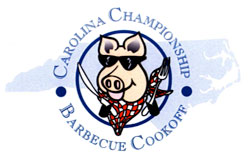 This summer marks my thirtieth year as an attorney. But when I think back to the summer of 1978 it is not a courtroom that I see; rather I recall a brilliant sunny July day barbecuing at the base of the Seattle Space Needle on a Weber grill. About twenty of us from the country's largest pork producing states were vying for first place in National Pork Cook-Out Contest. Truth be told though the southern states, principally North Carolina, Texas and Tennessee are known for barbecue the big boys of pork are Iowa, Missouri, Illinois, Nebraska and Kansas. They were the guys to beat.
For me the event was the culmination of a 2-year grilling odyssey that began in 1976 when I entered the North Carolina State Pork Cooking Championship and came away with a respectable but disappointing third place for Orange Flavored Pork. Despite the loss (and despite my New York Jewish heritage), I knew I had it in me to bring home the bacon so to speak. Though I had always loved pork – mostly in the form of ribs slathered in 'duck sauce' from the local Chinese take out joint – I really never really embraced the true pig in me until I had come to Chapel Hill, North Carolina two years earlier to attend law school.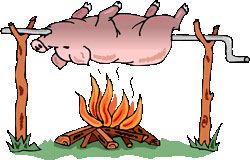 In the first few months living in Chapel Hill, I was invited to a pig roast or as it is more familiarly known a 'pig pickin.' It was love at first sight – the 300 pound hog splayed out and intricately wrapped in chicken wire, the sound of fat slowly dripping on low burning hickory coals and the heady aroma of the pig itself, adorned with nothing more than salt, pepper and occasional splash of apple cider vinegar. I was so captivated by the pig (and the old timer who was lovingly cooking it) that I wasn't even upset when the woman I had brought to the pig pickin', left with another man. Though I may have lost a (potential) girlfriend, I was introduced to a new world that not only would help me pay for law school but one which has provided me ever since with endless pleasure. Each year to see 100 to 200 people scarf down a whole hog with wild abandon, greasy chins and giddy delight is a sight to behold. About a year after attending that first pig pickin' someone suggested that I should enter the North Carolina State Pork Cooking Contest. Sponsored by the North Carolina Pork Producer's Council, the contest was held every year at the State Fair in Raleigh.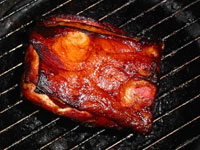 My first attempt involved marinating (for 24 hours) a thick slice of pork shoulder in soy sauce, vinegar, maple syrup, crushed garlic, black pepper and frozen orange juice concentrate and then slowly cooking it on the grill. The dish was very good but as my third place finish demonstrated, something was missing. And it was not just an ingredient or a spice or even a cooking technique – no my problem was a political one.
That first year of cooking pigs taught me that pork was not just important to the diet of North Carolinians (who are true pork connoisseurs), but sus scrofa domestica was a vital part of the North Carolina culture and economy. Once I realized that the pork producer council was charged with promoting the pig (way before that 'other white meat' advertising campaign), I realized that my dish in name and taste had to reflect pork in all its grandeur.
Though some friends thought me too Machiavellian, my first order of business was to decide the name of the dish that I would enter for the next year's competition. After much soul searching during the fall semester of my third year of law school, I came up with Pork with that Good Ole' Bacon Flavor. The recipe, which basically involved stuffing a marinated pork shoulder with a sautéed mish mash of leeks, apples and Canadian bacon captured squeal in a bottle.
Judgment day came on a cold wet day at the fairgrounds. The competitors came from all around North Carolina with inventive and succulent dishes but it was the lanky guy with a Bronx accent who won. I recall the Commissioner of Agriculture, a big man with a booming voice putting his arm around my shoulder and saying, "Paul, are you ready to represent our great state in the nationals next summer in Seattle?" I proudly replied, "You bet!"
Later that week, several dear friends from New York sent me a telegram that I still have:
We salute you by raising our fork,
We are proud of the champion of pork,
Although you're a winner, some would call you a sinner,
A nice Jewish boy from New York?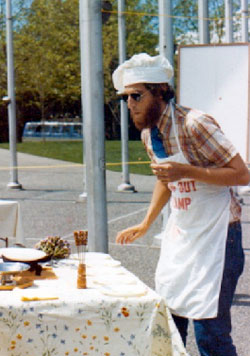 While I couldn't wait for July of 1978 to come, I had neglected to remember until the first week of June 1978 that the bar exam would be held just a few days after I returned from the contest. Though I didn't want to do anything to jeopardize my chances of passing the bar, there was no way I was going to blow off the contest. So along with ten pounds of pork shoulder from Cliff's Meat Market in Carrboro, North Carolina and assorted spices, knives, tongs and cutting boards, I packed my bar review books and headed west for Seattle.
When I got there I immediately realized I was out of my league. Many contestants wore clothes that matched their tablecloths, others had fancy place settings and gleaming cutlery. If you came to the North Carolina table you would have seen a tall guy with an unkempt Abraham Lincoln-type beard wearing aviator sunglasses, a checkered shirt, paisley tie and a chef's hat tossed to the side like a giant floppy white beret. In the end though the judges gave him great marks for the taste and creativity of his dish, he was done in by his 'grill side manner,' which was more Frank Zappa than Betty Crocker.
PORK WITH THAT GOOD OLE' BACON FLAVOR

2 lbs pork shoulder cut into 1 inch steaks, trim fat where needed then
cut pocket into each steak

Marinade
1/2 cup soy sauce
1/2 cup apple cider vinegar
1/4 cup maple syrup
1/4 cup dark beer
2 Tbsps ketchup
5 cloves minced garlic
1 finely minced white onion
1 heavy pinch of black pepper

Mix marinade well and put in plastic sealable bag, then insert pork for
24 hours minimum

Stuffing

2 green apples minced
2 leeks finely chopped
3/4 pound Canadian bacon or pancetta
1 teaspoon black pepper
2 tablespoons peanut or canola oil
1/4 cup calvados (optional)

1. Heat oil in large sauté pan over medium heat (pan needs cover - if one not available use a piece of aluminum foil

2. After 30 seconds add bacon, cook for two minutes constantly stirring, then add apples and leeks. For an added zing add 1/4 cup calvados (Calvavdos was not in my 1978 recipe but I have since added it. Turn
heat to low medium.

3. Cook for about 20-30 minutes until the mixture is a mush -- let cool.

4. Remove pork from marinade and carefully stuff in much - about 2 tablespoons per steak. More if you can get it in. Seal with toothpicks.

5. Heat charcoal or gas grill to low medium heat and cook 10 minutes on one side, carefully with tongs flip to other side for 15 minutes, flip again for 5 more minutes and finish with last flip for 5 minutes
Paul Mones is nationally recognized children's rights attorney specializing in representing sexual abuse victims and teens who kill their parents. He is also a published author and most importantly an avid chef who won the 1978 North Carolina Pork Barbecue Championship.