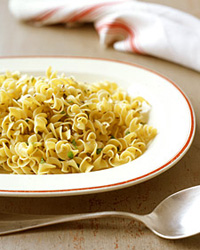 Even in turbulent time like these there are certain constants in life – like noodles. Noodles have played a very important role in my life. Whenever I got sick my mother would cook luchen ('luxshun' for those jews and non-jews unfamiliar with yiddish pronunciation) and cheese. I have vivid recollections of her bringing me a steaming bowl (not just a bowl but a BOWL) of wide egg noodles (like pappardelle but eggier and chewier) bathed in butter, cottage cheese, cream cheese, cinnamon and a touch of sugar and salt. It was the only thing I had to look forward to when I got sick. If the noodles were hot enough, the sugar and butter would melt into a glaze over the whole dish. And in college when I got sick I would routinely make myself a bastardized version of the dish usually with just spaghetti, salt, butter and cottage cheese. As I got older and began moving around the country for different jobs the luchen and cheese unfortunately receded into my history.
Luckily noodles crept back into my life. It was the first date I had with my wife Niki. We had just seen a late movie in Santa Monica and were starved but nothing was open that appealed to us so I said something like, 'let's go back to my place and I'll cook us up something.' When I said that I really didn't know what I had in my refrigerator, however I was out to impress her with my cooking skills. Upon getting back and examining the provisions all I had was Hebrew national hot dogs, spaghettini and celery. So I thinly shredded the dogs and celery, boiled and drained the noodles and fired up my ancient wok. A few drizzles of soy sauce, pinch of black pepper and a little maple syrup and voila! A first date meal that won her heart.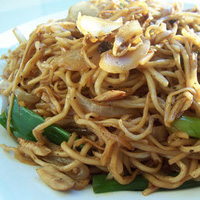 About two years later, after my first son was born, we hired a woman from Beijing to take care of him while my wife and I worked. For almost almost every lunch she usually cooked mien – noodles (usually a vermicelli-type noodle) tossed with thinly sliced veggies and a little meat in a soy-based sauce. As a result of this steady diet of Chinese-style noodles, my son grew to love them – and not just for lunch but for dinner and yes – even breakfast. In fact to this day when all six foot five of him comes lumbering home for a holiday break, I know what he really wants for breakfast is not a fancy omelet or pancakes but rather fettuccine or even elbows with butter and parmesan.
So noodles complete the circle for me – at times when I cast my eyes on my two grown sons and begin to think how much has changed, all I have to do is watch them slurp down some noodles and see how much has really remained the same.
Paul Mones is nationally recognized children's rights attorney specializing in representing sexual abuse victims and teens who kill their parents. He is also a published author and most importantly an avid chef who won the 1978 North Carolina Pork Barbecue Championship.