What do you call a guy who:
loved food so much he made his mother get him a subscription to Gourmet when he was in elementary school;
paraded around in a purple suit when he was 11 and wears a version of that same suit 25 years later;
is from rural Connecticut but is now so much a part of the fabric of the Bronx that Ruben Diaz Jr. the Bronx Borough president has named him a cultural ambassador;
has an encyclopedic knowledge of the eclectic Bronx cuisine that includes the best places to eat Dominican, Liberian, Albanian, Sierra Leonean and old time Arthur Avenue Italian food;
drives round in a purple tricked out roadster;
regularly hangs out with a Haitian voodoo queen and sees himself as the incarnation of a mischievous voodoo spirit who loves to drink rum laced with hot peppers;
will never eat at a restaurant if it has a Zagat rating and has the longest running food show on Bronx Cable TV and now has a special on the Cooking Channel - The Culinary Adventures of Baron Ambrosia?
There is only one answer – you call him Baron Ambrosia.
With his dark brown hair pulled up in a tight bun at the top of his head, a carefully razored thin chin-strapped beard and thick soul patch, (along with his colorful outfits, the Baron looks like Ali G). The Baron (Justin Fornale to his parents) started his career as an underground videographer and through what best can be described as a culinary awakening (the awakening part being that since he was a little boy he had always been fascinated by explorers, 19th century low-level aristocrats, hidden treasures and food) decided to be true to himself and invent a character that combined the best of all his childhood dreams. He decided, that what he describes as his "hyper stylized character" should play out his life (and culinary adventures) in the far corners of the Bronx (though he still travels frequently – Yemen, Vietnam, Liberia and Haiti have all been on recent itineraries). It is literally his passion to put the Bronx on the map in a way that the Yankees never could (if it was up to the Baron, there would be a Fufu concession at Yankee Stadium).
Since 2006 the Baron has had a show on Bronx public access TV called Bronx Flavor which is by far the coolest food show on television. The Baron lights it up – just a sampling of some of his shows over the last few years reveals his weird genius:
Secrets of the Liberian Funk : The homemade Liberian foods of Eliza Smith (i.e. palm butter, fried pepper sauce, sweet potato greens, turborgee);
Ca Cuong City : The thoracic exudate of the lethocerus indicus (giant water bug): The mamey milk shakes and mavi[disambiguation needed] sold at the fruit van located at exit 5 off the Bronx River Parkway;
A Latke Lunacy Culinary Focus: the potato pancakes sold by Paul Schmuckler from his Briggs Avenue apartment;
Legend of the Bullet Proof Foot -The Jamacian curried cow's foot from Jamrock Cooking;
Burek Mania: Albanian and Kosovoan Burek, Locations: Tony & Tina's Pizza, Dukagjini Burek;
Night at the Bodega : The products that can be found and purchased in various Bronx bodegas, The Vargas Deli; Quantum of Chimi:: Chimichurri Hamburger, El Rincon De Los Taxistas Chimi Truck; The Chitlin' Rapture, Berzet's Soul Food & Fillet of Soul;
The Baron explains his devotion to Bronx cusine and culture as, "Through my eyes my eyes these ordinary Bronx becomes the extraordinary Bronx. People go thru life with gray filter but I want to change that filter to make them see the kaleidoscope of culinary colors that the Bronx has to offer."
Though the Baron is an outrageous, over-the-top character , he has a whole lot of heart and that heart comes through in his passion for his community. He loves the fact that people come up to him every day on the street to say hello or ask him questions. " These are my people. I am in the streets every day, going to restaurants and people's homes." He related a story where a Jamaican family emailed him saying they would never go to an Italian restaurant on Arthur Avenue because they felt they wouldn't be welcomed. But after watching his show on Arthur Avenue restaurants , they ventured there and had a ball. "The family was really appreciative and that made me feel good that I was able to open up another culture to them." Bronx Flavor is not just about food, it's really about "breaking down cultural barriers—that's more important than anything else."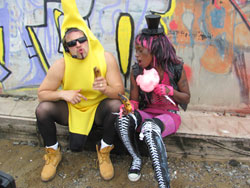 As for his favorite episode on Bronx Flavor he doesn't hesitate: Correctional Festivities. He has a number of friends who did time in some of New York's well known facilities like Rikers Island and in talking to these pals he discovered that there is a vast culinary world of, what for a lack of a better word, cell food. This is not the prison food served in mess halls on plastic trays but food actually cooked in the prisoner's cell. Meals like soup prepared by heating water in a plastic bag on a radiator.
With all the new food shows exploding on the air, I asked what's different about yours on the Cooking Channel. "My show celebrates the uncelebrated and it shows the authentic truth that the best flavors can be just around the corner." In the Culinary Adventures of Baron Ambrosia, the Baron leaves the comforts of the Bronx and explores new culinary vistas. In this first episode the viewer is transported to Newark. Suffice to say the story line revolves around meals of Trinidadian—curried goat and other delectable delights of the Brick Cit. There's even a cameo by hip hop pioneer Mele Mel. Despite his sometimes campy style, the Baron is a breath of fresh air on an otherwise bloated, predictable television landscape. He's the anti-celebrity food host, the perfect antidote for shows like Man versus Food and Diners, Dives and Drive Ins. Putting it another way—the Culinary Adventures of Baron Ambrosia is the Pulp Fiction of food television.
Go to Baron Ambrosia for airing schedule.
Paul Mones is nationally recognized children's rights attorney specializing in representing sexual abuse victims and teens who kill their parents. He is also a published author and most importantly an avid chef who won the 1978 North Carolina Pork Barbecue Championship.