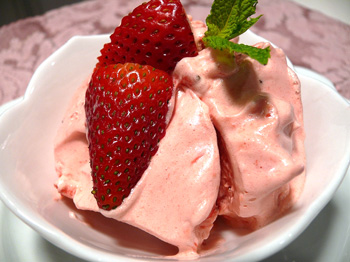 I know this looks like ice cream. But IT'S NOT. It's Strawberry Mousse. And it has all the creamy mouthfeel that ice cream exudes. Best of all it's quick and easy to put together. What could be better than that?
Oy Vey, I am not Jewish, however, the Wild Boar is. So when there is a Jewish Holiday (however it seems as though lots of non-Jews, goyim, are celebrating Passover these days), I like to take on my "perfect goy wife" role and put something together, a traditional treat during the holiday period. I know, I know, I'm good.
The Wild Boar does not follow Jewish dietary laws (he eats everything) but like I said, it's fun to make traditional things. If there is a holiday, I'll join in and do what I need to do for a celebration. I love parties.
This mousse is considered perfect for Passover because it is non-dairy with no leavening, an important consideration for Jews following traditional dietary laws with a meal where meat is usually present.
But the truth is, I make this on a whim because it is so darn yummy and simple to throw together. It's light, fluffy and refreshing. You'll be saying Mazel Tov before you know it. I know you will.
Strawberry Mousse
adapted from Family Circle
1 egg white or 4 teaspoons powdered egg whites (such as Deb El Just Whites)
1/2 cup granulated sugar
2 cups chopped fresh strawberries
Fresh fruit for garnish
Place egg white in a large bowl or mix powdered egg whites with 1/4 cup warm water in bowl. Whisk for 2 minutes until light and foamy.
With a hand mixer, gradually beat in sugar and strawberries on medium speed. Increase speed to high and beat for 15 minutes. Mixture will fill the bowl.
Transfer to a bowl and freeze for 4 hours. To serve, remove from freezer and garnish with fresh fruit.
Happy Passover and enjoy!
Cathy owns a vineyard and winery in the Willamette Valley of Oregon. She is a food writer forDavis Life Magazine and blogs daily about wine, food and everyday living. She lives with her husband and two sons. You can visit her at noblepig.com.