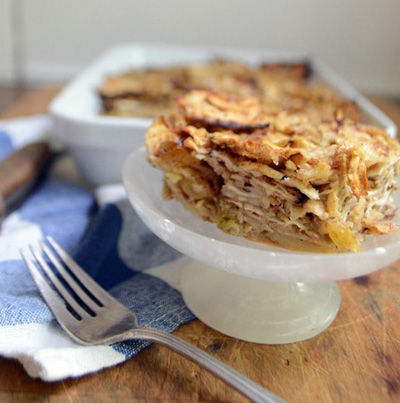 It's tradition that you create a Seder meal the first two nights of Passover. Like most holiday's, Passover is a time to gather with family, honor our heritage and traditional foods, and show gratitude to those that sacrificed before us. In the past, Passover was the holiday dreaded by my boys. Giving up foods, for one week, was almost as bad as shutting off the satellite for two weeks (yes, I really did that). Since giving up gluten, Passover is much less of a challenge than it has been in years past.
This year, the first night of Passover will be celebrated in our home. This is not a holiday that I generally host. But with my sister-in-law's house under construction, I offered to create the meal. I like to plan, so cooking for 22 and not just the usual 5, is not as daunting to me as would be for others. I always make it a point to make a few new dishes. This year I plan to make my friend, Lisa's Matzoh Kugel (deli-sh!), gefilte fish, and a feta cream spread for the patties.
I do admit to eating the Gefilte fish that comes in a jar. I know, it's kind of gross. Making it yourself, using Ungar's frozen loaves is my newest Passover must have and obsession. I read a bunch of chat rooms on how best to cook it and for me, simply placing it in a small dutch oven with some carrots, onions, celery, Celtic sea salt, pepper, and paprika, and covered with water was the path that I took. Baked in the oven for about 1 1/2 – 2 hours and refrigerated overnight – it's that easy. This is one of those dishes that I could become addicted to.
My grandma Rose's matzoh farfel was something I grew up on and couldn't get enough of. I cannot remember the last time I made it and this year I was craving it. Jewish food, in my opinion, can be a bit monochromatic (yellow and brown). Adding spinach to her original recipe gives me what I miss most on these holidays – GREEN!
Grandma Rose's Matzoh Farfel Recipe with a Twist
Ingredients:
1/2 box Matzoh Farfel
2 large, organic eggs, beaten
10 ounces fresh baby spinach, chopped
1 yellow onion, diced
2 – 3 Tablespoons coconut oil
1/2 Celtic sea salt
1/4 teaspoon ground white pepper
1/4 teaspoon paprika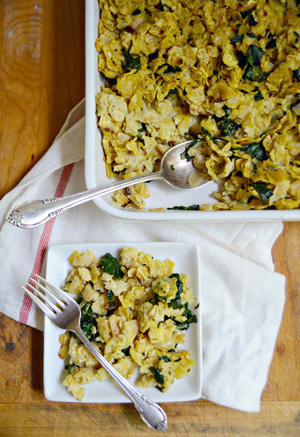 Instructions:
Mix beaten eggs and farfel in a large bowl until completely coated.
Spread mixture onto a lightly coated, rimmed baking sheet and let dry out over night (you can also line the baking sheet with foil and coat the foil or use a silpat mat).
Set a large pot of water to boil. Cook dried out farfel in boiling water for 3 – 4 minutes. Drain and set aside.
While the farfel is draining, saute onion in coconut oil until translucent, about 8 -10 minutes. place onions in a small bowl and set aside to cool.
In the same saute pan, add some additional coconut oil in the pan and saute the spinach until wilted, 3 minutes. add salt, pepper, and paprika to both vegetables.
Mix onions, spinach, and farfel together. spread in an oiled baking dish, cover and bake for 20 – 25 minutes in a 350° oven.
Remove from oven, let sit for 20 minutes before serving.
note: I doubled my recipe. Many veggies, such as mushrooms, leeks, zucchini could all work in this dish
Yield: 8 servings
Lisa's Matzoh Kugel
Ingredients:
12 Gluten Free Matzohs (or regular matzohs)
9 large, organic eggs – beaten
1 1/2 teaspoons Celtic Sea Salt
10.5 ounces | 300 grams | 1 1/2 cups coconut sugar
6 ounces | 171 grams | 1 1/2 sticks unsalted butter – melted
5 teaspoons cinnamon
1 cup golden raisins
4 granny smith apples, peeled, cored, and grated
Instructions:
Preheat oven to 350°F. lightly coat a 9″ x 13″ casserole pan. Set aside.
Break matzoh apart and place in a large colander. soak matzoh with water and drain.
In a large bowl, beat eggs and salt. Add coconut sugar, melted butter, cinnamon and mix well.
Drain matzoh and stir into beaten eggs. Add raisins and grated apples. Spread evenly in prepared pan.
Bake 40 – 45 minutes or until golden brown on top.
Let sit for 20 minutes before serving.
Yield: 10 – 12 servings
Susan Salzman writes The Urban Baker blog to explore her dedication to good food in the hope of adding beauty to the lives of her family and friends.