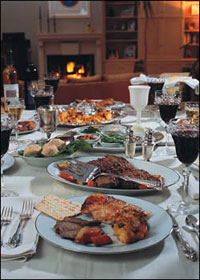 My husband is Jewish, my stepchildren are Jewish, even my son is Jewish. And yet, I, myself, am merely Jew-ish, which is to say that I go to temple with my family, participate in our Jewish life, but have yet to officially convert. Why? I don't know exactly. I believe that it's either in your heart or it isn't, and it is in mine, and no amount of mikvehs will make it more so.

My first seder was easily a decade ago. I slaved (no pun intended), I sweated, I researched. I even figured out how to get a lamb shank bone for my seder plate. And for dinner, I made a fine lamb roast. We invited my husband's best friend since high school, and his family. Turns out, they don't eat lamb. That was awkward. But it had nothing to do with Passover. (I had no idea that there were people who felt funny about lamb. Now I ask, every single time, and there's only been one other occasion where someone categorically turned their back on it.)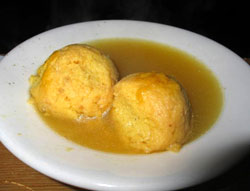 Anyway, I admitted defeat and turned to the one person I should have turned to in the first place: my mother-in-law, Tobi Adele, who sadly passed away last September. I am now rife with recipes for Passover. My favorite is her Matzah Ball Soup. It's made from the pre-fab mix in the Manischewitz box (usually under International Foods in your grocery aisle), but she did one little thing that made it spectacular, which you won't find in any box.
You throw a handful or two of oatmeal in the broth, right after you toss in the now cooled matzah balls. It thickens the soup up in the most discreet way, adding another dimension, and leaving any vestiges of thin and watery behind. She also threw in a couple of broken up nests of skinny little egg noodles, just to keep things interesting.

I miss my mother-in-law, which I know is odd, but it's true. She had a wonderful sense of humor. At least, I still have her soup. And her laughter in my heart with the rest of all things Jewish.