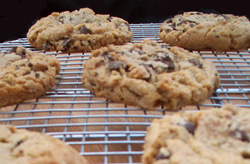 Years ago I was a personal Chef in a private home in a very swank suburb of Boston. My sister got me the interview for the job, I liked the family immediately and they liked me. My job consisted of getting to work at 10 in the morning, quite civilized, I was the last of the "staff" to arrive at the house. I would head to the kitchen to pick up my list from the madame of the house and read the pages of notes and the menu for the dinner that evening.
There was always a shopping list and at the end of the pages she would underline that they were on a very low fat diet with an exclamation mark! A big part of my job was to bake cookies every day to be ready when the two kids came home from school and they had to be "fresh out of the oven", my choice of what kind, but they had to be piping hot.
I was given an adorable MG convertible to tool around in with my many bags of grocery and a charge account at the local high-end grocery store. I would make dinner for 6 o'clock sharp, clean up and head home for dinner at a later hour. The first day on the job my sister called to ask how was it going so far and what was the house like? The "large" house was a Frank Lloyd Wright design with a Japanese landscaped yard. It was beautiful.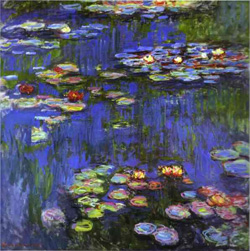 The house was full of art, paintings and prints were everywhere even on the finished walls going to the basement laundry room. I told my sister on the phone that the art was hung in so many places that it was tacky until she came over for lunch a couple of days later and we both toured the house. The art was real! Kandinsky, Picasso, even a Monet in the formal dining room. There were so many pieces I assumed that they were all prints, but no, it was the real McCoy, my own museum all day until the kids came home.
A month before Passover the "J" family asked to speak with me about putting on a large formal dinner and they wanted something "nice" because both their parents were coming for Passover. We worked on the menu for a few days and created a classic Passover feast. Legs of lamb would be the main course that I started aging 3 weeks before the event. I think the J's were a bit nervous as they checked it daily and the legs got darker and smaller at each view. I reassured them this part of the menu I was comfortable with, I had aged legs of lamb many times and it would "cut like butter."
Not to worry, but worry they did. I read everything on the subject of Jewish cooking, comparing the techniques of making matzo balls and extrapolated from at least 20 recipes. The chicken stock would be a picture perfect stock except I would double the amount of bones and then reduce it by half to get an intense flavor.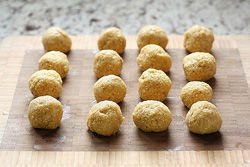 I mapped out my timeline and tweeked my recipes. Mrs. "J" reminded me daily that her Mother was very fussy and not all that sweet. The fear was building, I had never had a matzo ball or charoset never mind having to cook all this for 25 experts or should I say guests. My head was on the chopping block!
The day before Passover Mrs. "J's" mother arrived from New York...Otherwise known as Manhattan. She dropped her bags and joined me in the kitchen, fear surged through my veins! She peeked in the refrigerator, she lifted covers on the stove and sniffed, she glared at the shrunken lamb legs without muttering a word....then she looked at me and said "are you Jewish?" with this deep voice. I said "No, I'm Greek." She looked at me and said "not bad, come on let's cook together" and that is what we did!
She shared with me all her Passover secrets, how to make the chicken soup more yellow by putting in tomato peels, how to make matzo balls light, how to make a Seder plate properly and what the traditions of Passover meant. I showed her how to make a proper pilaff and age lamb, how to hold a knife-we laughed, we cooked and we shared. If only Mrs. "J" had cooked with her mother all those years, things would have been much different between them. Dinner turned out flawlessly but I still feel "the guilt" that it was me cooking and enjoying that wonderful Mother of Mrs. "J" and not Mrs. "J"......
Brenda Athanus runs a small gourmet food shop in Belgrade Lakes, Maine with her sister Tanya called the Green Spot.
The Green Spot
This email address is being protected from spambots. You need JavaScript enabled to view it. This e-mail address is being protected from spam bots, you need JavaScript enabled to view it
207.441.9327