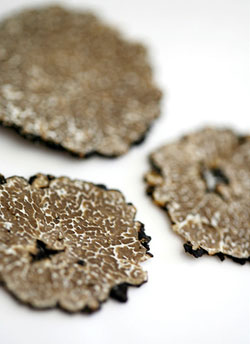 To say that truffles are an acquired taste for me would be an understatement; I can't ever think of a moment when these heady gems crossed our family table growing up. Truffles and Tex Mex don't normally hang out together, you know. It wasn't until I became an adult that I had my first taste of the powerful fungus, and if you'll allow me to be dramatic for just one second, it literally knocked me off my feet.
Much has been said about the beauty and rarity of truffles, so I'll go ahead and leave the praise and culinary history to the professionals. By now you probably already know they are fungi and that they are harvested by dogs and pigs in Italy, France and the Pacific Northwest of the United States. You probably already know that they can fill a room with their aroma, but did you know that I know a Fed Ex driver who curses and swears each time he makes a white truffle delivery? Hey, I could think of worse smells for the inside of a delivery truck, can't you?
I eased myself into the flavor of truffles by going slow and easy. Any time I'd see it listed on a menu as an ingredient I'd order it, and over time I stocked my pantry with artisan truffle oils, both black and white, as well as truffle salt. But the real blessing (or challenge or curse, however you feel about them) was the first time I had to photgraph them, which meant I'd have a few to experiment and indulge my new love.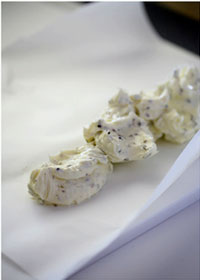 And experiment I did! Because I actually had fresh truffles in my grubby little hands I took the advice of a chef friend and cooked them as little as possible, adding them shaved with fluffy scrambled eggs, on top of fresh angel hair pasta, and added last minute to creamy mushroom soup. I even made truffled French fries, adding a sprinkling of truffle oil as they cooled and topping with shaved truffle bits and sea salt. Heaven! But perhaps my favorite way of using them was in risotto; starchy Italian arborio rice is a natural with truffles and even seemed to satisfy the palate of my non-truffle-lovin' boyfriend.
All good things must come to and end I know–but I still had truffles left! Knowing that they won't last forever, I decided on an easy and quick way to store them for future use by adding them to butter. This way I'd always be able to satisfy my taste for truffles (and butter!) by adding a pat to vegetables, steaks, grilled corn on the cob, an omelette or soups and risottos. Of course nothing can ever compare to the fresh flavor of a thinly sliced truffle added to your food, but I think truffles resting in butter will be pretty damn close.
-- Also published on MattBites.com