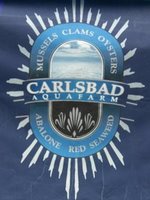 Hi, I'm Dave and I'm a shellfishaholic. My wife wants me to stop writing about shellfish because they aren't everyone's cup of tea. But I can't resist the temptation. When we were in Boston recently, the one restaurant I had to visit was the Union Oyster House. While Michael and Michelle rested at the hotel, I snuck away and happily indulged in a dozen oysters and a bowl of clam chowder.

Today at the Santa Monica Farmers' Market, Carlsbad Aquafarm had fresh oysters, clams, mussels, and live abalone. I wanted to buy everything. I showed some restraint. I only bought the oysters and clams.

A nice thing about shellfish is they keep in the refrigerator for several days as long as you follow a couple of suggestions. Oysters need to be stacked in a bowl with the rounded part of the shell down, so the oyster sits in its own liquid. Clams will drown if they're submerged in water. Save a plastic basket that comes with strawberries. Cut it in half, put it on the bottom of a bowl and the clams on top. That will keep the clams above any water they spit out while they're waiting in the refrigerator.

Breaded Oyster Sandwich

Breading usually means dredging the oysters in a egg-milk wash before rolling them in breadcrumbs. I prefer a simply seasoned olive oil mixture. The resulting oysters are lighter and crisper. As a condiment I recommend making homemade tartar sauce.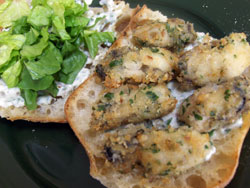 1 dozen oysters, shucked, nectar reserved for later use
1 cup bread crumbs
1 tablespoon Italian parsley, leaves only, finely
4 tablespoons olive oil
1 teaspoon sweet butter
Sea salt and pepper
2 tablespoons tartar sauce
2 small baguettes, cut in half
1 small avocado, peeled, pitted, sliced (optional)
Romaine lettuce or arugula leaves (optional)

Drizzle the baguettes with a little olive oil, then toast or grill. Pour the olive oil into a shallow bowl and season with sea salt and freshly ground black pepper. In a second bowl, mix together the bread crumbs and parsley. Roll each oyster first in the seasoned olive oil, then in the breadcrumb-parsley mix. Heat olive oil and butter in a sauté pan. Lightly brown each oyster. Turn carefully so they brown on all sides, then drain on a paper towel.

Spread the tartar sauce on the baguettes. Arrange 6 of the oysters on each baguette. Adding sliced avocado and lettuce is optional but recommended.

Serves 2. Preparation Time: 15 minutes. Cooking Time: 5 minutes.

Steamed Clams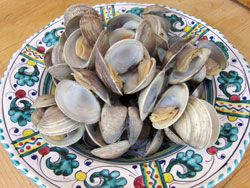 Cooking clams is no more complicated than boiling water. The Carlsbad Aquafarm's clams are exceptionally fresh and sweet tasting.

2 pounds clams (butter clams or little necks)
1 cup water
1 tablespoon sweet butter

Put the clams, water, and butter into a pot on medium-high heat, cover, and cook for 5 minutes. Pick out any clams that haven't opened and discard. Serve the clams and their nectar in a bowl with a buttered baguette. Adding a salad turns the clams into a full meal.

Serves 2. Preparation Time: 2 minutes. Cooking Time: 5 minutes.
David Latt is an Emmy-award winning television producer who turns to cooking to alleviate stress. He shares his experiences with food and his favorite recipes on his blog Men Who Like To Cook.