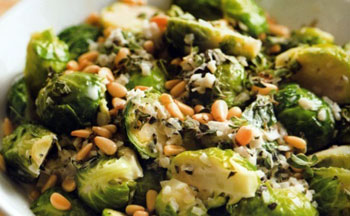 The Brussels sprouts pictured are awesome. 
I recently made these Brussels sprouts, and at sometime, either before of after making these amazing sprouts (I'm really not kidding, people who don't like Brussels sprouts like this dish) I chomped on a medium-sized handful of pine nuts.  It was only about an eighth of a cup of these sweet, resinous kernels--not a big handful. But, something strange occurred in my mouth the next day. First, my morning oatmeal tasted so BITTER. Was there something wrong with the oatmeal? Was there some sort of cream on my face that I was inadvertently licking (?!!?).
Later on that  same day, I ate a few Marcona almonds, and I couldn't believe how horrible they tasted--and they're so expensive. At dinner, food tasted fine while I initially chewed it, but after swallowing, the aftertaste was strangely metallic. My condition (that lasted only 2 days) subsided, and I forgot about it. UNTIL, I worked at the BON APPETIT magazine offices last friday, and learned that three people there had all recently suffered from the same bizarre ailment!
Apparently, the condition is called PINE MOUTH, and it comes from eating certain pine nuts. NOT all pine nuts. We think maybe the ones imported by Trader Joe's were the culprit. Also, everyone afflicted had eaten at least two tablespoons of said pine nuts. My family, who enjoyed these wonderful Brussels Sprouts sprinkled with pine nuts (and not an entire handful, as did I), did not contract PINE MOUTH. BUT, if you want to try this fab recipe, you may want to consider buying domestic pine nuts -- just in case. I'd hate to leave a bitter taste in your mouth.
Brussels Sprouts with Marjoram and Pine Nuts
There is something about the richness of the pine nuts and cream, and the slightly mentholated herb flavor of the marjoram that tempers the strong cabbagey flavor of the sprouts.
Yield: 6 to 8 servings
3 tablespoons butter, divided
2/3 cup pine nuts
1 1/2 pounds fresh brussels sprouts, halved
2 large shallots, minced
1 cup water
1 1/2 tablespoons chopped fresh marjoram, divided
1/3 cup whipping cream
Melt 1 tablespoon butter in a heavy large, deep skillet over medium heat. Add the pine nuts and stir until golden, about 3 minutes. Transfer the pine nuts to a small bowl. Melt the remaining 2 tablespoons butter in the same skillet over medium heat. Add the Brussels sprouts and shallots and stir until coated, about 1 minute. Add the water and sprinkle with salt. Cover and simmer until the sprouts are almost tender, about 7 minutes. Uncover and simmer until the water evaporates, about 5 minutes. Stir in 1 tablespoon marjoram, then the cream. Simmer until the sprouts are coated with cream, stirring frequently, about 4 minutes. Season with salt and pepper. (Can be made 1 day ahead. Cover and chill. Stir over medium heat to rewarm.)
Gently stir in half of the pine nuts. Transfer the Brussels sprouts to a serving dish. Sprinkle with the remaining pine nuts and marjoram and serve.
Jeanne Kelley is an established food writer, recipe developer and food stylist based in Los Angeles, California. Integrating locally grown produce with globally influenced flavors, Kelley's approach to cooking is both simple, festive and fresh. Her recipes can be found in her latest book is Blue Eggs and Yellow Tomatoes: Recipes from a Modern Kitchen Garden
and on her blog Eat Fresh.