I admit it. I'm a tomato junkie. But not just any tomato. Heirlooms. And how this came to be I'm not completely sure. It's not like I grew up on a farm. And I know it's not because I have romantic notions of plucking tomatoes off vines in some hazy late summer yellow-lit garden. But when summer rolls around the hairs on the back of my neck stand up, my body goes into automatic mode and my thirst for heirlooms sends me into a frenzy–all rational sense gone. I'm not afraid to admit it: I am an Heirloomaniac.
Thursday, 4:17pm
I'm racing down the 405 with precious cargo on the seat next to me. Four boxes of heirlooms are belted in and I must tell myself to wait. Wait until tomorrow when they've all been photographed and my job is over. But….. I…… I just can't wait. I reach over and grab a Marvel Stripe. Chomp. At 64 miles an hour. Juice explodes and I'm a mess. I don't care*. I'm glad I made it home safely.
Friday, 7:26am
I woke up early and tinkered around the studio. Had a few new surfaces to use and decided to shoot film, medium format. A few polaroid backs were stacked on the prop table waiting to be loaded, but I couldn't stop glancing over at the boxes. Yes, the boxes. Boxes of Marvel Stripes, Beefsteaks and Yellow Pineapples were ripening before my very eyes, their sugary acidic insides ticking away. I had to move fast.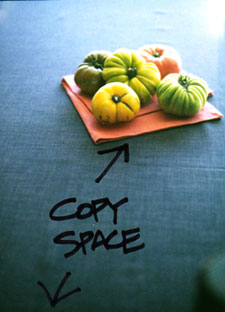 10:42am
My models cooperated beautifully. The camera loves those gnarly ridges and alien-like ripples…and so do I. After a few set changes I'm finished. I'm going to eat my models now. A serrated knife, sea salt and my mouth are all I need.
5:38pm
I took The Heirloom Tomato Cookbook off the shelf as I do every year, thumbing through the pages trying to find something to do with an heirloom that doesn't involve immediate consumption while standing over the sink. My good intentions disappeared when I remembered Adam brought home burrata and there's basil in the garden. Enough said.
9:12pm
Not quite a midnight snack, but a tomato with balsamic makes me happy.
Saturday, 8:15am
I get home after a jog with Lisa Shaw (on my iPod, I mean) and find myself ravenous. Two eggs from the Farmers' Market make their way into frying pan, scrambled with olive oil and playing catch up to the tomato I've already begun to devour.
11:00am
My mother-in-law comes over and Adam desperately requests she not leave empty-handed.
2:39pm
This is the first quiet Saturday I've had at home with my man and the pups in quite some time. I'm catching up on reading, petting miniature chihuahua heads, and doing something I'm not very good at – RELAXING. Relaxation is made better with a trip to the kitchen for one of my all time favorite sandwiches: Sliced heirlooms, good mayo, rustic bread. Hell, I'll even take cheap mayo. A few leaves of almost-past-their-prime mache get layered on top of tomatoes and I sprinkle them with salt. My eyes roll back in my head as I struggle to eat the sandwich fast enough so that the tomatoes don't create soggy bread. I succeed in my endeavor.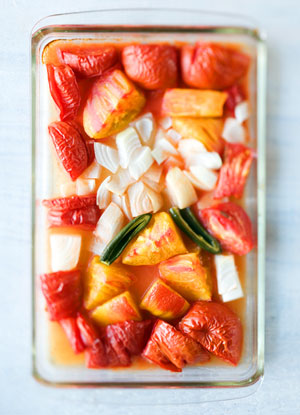 5:01pm
Adam asks if it's really possible that I will exist on tomato-based dishes for 3 days. I tell him of course! And that I don't need dishes to eat my tomatoes. Tomato fatigue begins to set in with him; it hasn't even entered my brain.
6:30pm
Is there anything that gets my tastebuds revved up faster than this? Gorgeous slices of tomatoes in a variety of gem hues, shavings of real Parmigiano Reggiano, a few capers and a drizzling of good extra virgin olive oil? I think not. Dinner is fantastic and I'm sad it's over.
Sunday, 9:01am
I'd normally never say this, but go ahead, you can keep your french toast, your frittatas, your bagels and lox. I'll happily eat my heirlooms and feel like I'm the king of the world. Nope, I'm not missing a thing. But then again, maybe a few slices of tomatoes on a bagel wouldn't be such a bad thing? I reach for the toaster.
1:12pm
Yes, tomatoes again. But this time they're joined by anchovy and garlic toast. And it couldn't be easier. Sauté a few cloves of garlic in olive oil over low to medium heat for about 25 minutes until they are soft, mash with 1 or 2 anchovy fillets and oil from the pan in a morter and pestle and then spread on toasted bread. Inhale immediately.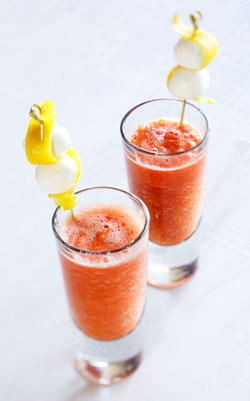 4:43pm
Adam puts his foot down and tells me that enough is enough. To facilitate the intervention he's invited our good friends Jennifer, Eddy and Troy to remove the remaining tomatoes, but not before we sit down to an Insalata Caprese grande and something from the grill. However, my addiction won't let go that easily and I reveal my secret weapon that kept me in the kitchen during the afternoon: Heirloom Tomato Bloody Marys. Roasted heirlooms, tomato water, onion and jalapeño makes one hell of a drink. Besides, it's Sunday afternoon, the perfect time for sharing a cocktail with friends. Or two. Or three. Or Se3grxen or Ei58gt.
8:12pm
Our guests leave, we clean up a bit, and I look at the last single tomato left on the counter from my weekend of debauchery. I begin to wonder: it's not really indulgence when you consider how seasonal and special these types of tomatoes are, is it? Or is this an act of rationalization? I mean seriously, when life gives you heirlooms (4 cases to be exact), you eat them! Surely no one could fault me for that.
10:14pm
My head hits the pillow as thoughts of bright greens and oranges and crimsons swirl through my head. I lost count of how many tomatoes we actually ate this weekend, but it doesn't matter. As long as there is sea salt and olive oil in this world I'd do it all over again tomorrow.
Or at least next summer.
Roasted Tomato Bloody Mary Mix
2 red heirloom tomatoes, quartered
1/2 onion, cut into large dice
1 jalapeño chili, stemmed
1/4 cup vodka
1/4 cup tomato water, see below
2 tablespoons fresh chopped cilantro
salt and freshly ground pepper to taste
fresh lemon juice to taste
Preheat the oven to 350°F. Spread the tomatoes, onions, and chili in a nonreactive roasting pan in one later and roast for about 25 minutes, or until lightly browned. Add the vodka and tomato water to the pan and roast for another 15 minutes. Transfer the roasted vegetables to a blender, add the cilantro, and purée until smooth. Season with salt, pepper and lemon juice. Refrigerate until cold, at least 2 hours, or up to 2 days. Makes 2 cups.
Tomato Water: Take 1 pound of ripe tomatoes, chopped, and place them in a sieve set over a bowl and let drain for about 2 hours, or until tomatoes stop dripping. To further clarify the tomato water, strain it through cheese cloth or use a coffee filter. You can use the drained tomatoes in another recipe but note that it will be less watery.
Matt says: When you're ready to make your Bloody Mary, add the Mary mix to a cocktail shaker filled with ice, vodka, Tabasco, Worcestershire, and however you prefer your cocktail. Add a dash of celery salt or pepper if you'd like, and garnish the glass with a celery stalk.
-- Also published on MattBites.com