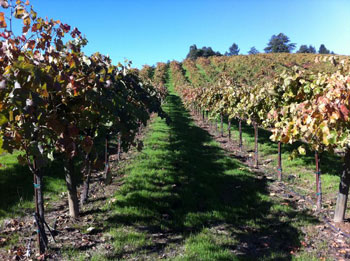 I was invited – along with six other authors – to talk about my latest book, "Family Meals
" at the annual Author's Luncheon in Sacramento. It benefits the National Kidney Foundation and it's a great event. Jill came along as Muse – I never travel without my Muse – so we made it a combination work and play trip, which we always try to do.
Our first stop was at our friend Caroline's graduation from the Napa Valley Cooking School. Caroline is a great friend; she first worked for us as a personal assistant and sous chef in my kitchen (I taught her everything she knows about cooking, of course) – and now she's a real certified chef on her own. We're very proud of her.
Next stop was Sacramento for the luncheon and signing and then we decided to drive up to the Russian River area to eat and drink for a couple of days before we finish the trip with a reading and signing at Books, Inc. – a great independent bookstore in San Francisco.
Guerneville is an adorable town on the Russian River – foggy, but adorable. It's nestled under the majestic coastal redwoods that thrive on the local fog and it's surrounded by vineyards that turn out some of the best wines California has to offer. We arrived in the late afternoon and asked our host at the West Sonoma Inn and Spa where he thought we should eat that evening. We told him we were just off the road and wanted to stay casual.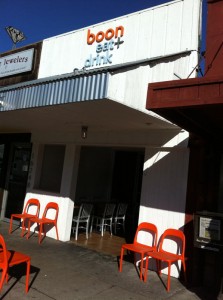 "You can walk a couple of blocks into town at eat at Boon Eat and Drink. It's real casual. Kind of like a coffee shop but with really good food."
"Do they serve wine?" I asked. We wanted to make sure we got our fill of the local pride and joy.
He smiled paternally — "You're in Guerneville – even the Denny's has a wine list."
Well, Boon Eat and Drink turned out to be a treasure. Jill had the herb-roasted chicken served over toasted farro with grilled raddichio and citrus vinaigrette, which made it quite clear we weren't in a coffee shop. I started with their flash-fried brussels sprouts, which are a specialty in season and moved on to their burger with a plate of truffle French fries. I couldn't have been happier. Our waitress recommended the Paul Matthew Pinot Noir, which rounded out our evening perfectly.
We breakfasted the next morning at the Garden Grill. It was Halloween Day and our wait staff were dressed as fairies. We hiked that afternoon up into the redwoods – a three-and-a-half mile hike up and down hills – real hills. All I could think of while I was schlepping through the woods was, "After this, I can eat and drink ANYTHING I WANT."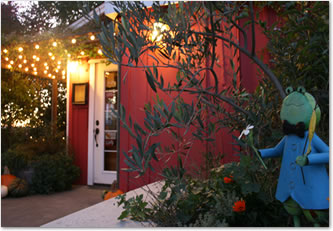 That evening we dined brilliantly at Zazu Restaurant and Farm. Jill had the Farallon Island sand dabs with a bacon-fat tartar sauce – yeah, bacon is big at Zazu. The sand dabs were tucked into the lightest batter you can possibly imagine and the fish was moist and tender and full of flavor. I had the Sunday Night Special – Pizza and Pinot. I chose the pizza topped with Black Pig Bacon and McBryde Farm Egg with arugula and fontina and a flight of three local Pinots:
Romililly Pinot Noir, RRV, 2008;
Zazu's own Black Pig Pinot Noir, RRV 2009;
William Knuttel Pinot Noir, Sonoma Coast, 2007
The Black Pig was what I was hoping for – that rich, deep, almost leathery Pinot Noir that California is famous for. I loved it. The Romililly was a lovely surprise – lighter, rosier with hints of cherry. I could sip that wine all night. The William Knuttel was spicier, oakier and very nice, indeed.
Last night we showed up at the bookstore in San Francisco for our reading at 7:00 P.M. Last night was also the final game of the World Series and San Francisco was the winner. Our talk started promptly at the top of the eighth inning. The bookstore was surrounded by four raucous Chestnut Street bars, packed to bursting with screaming, drinking fans. We had an audience of six very attentive, very quiet book lovers, who listened to our talk between the roars and cheers and honking horns of celebrating San Franciscans. Hi Ho, the author's life for me.
Michael Tucker is an actor and author whose third book is the recently published Family Meals: Coming Together to Care for an Aging Parent
.