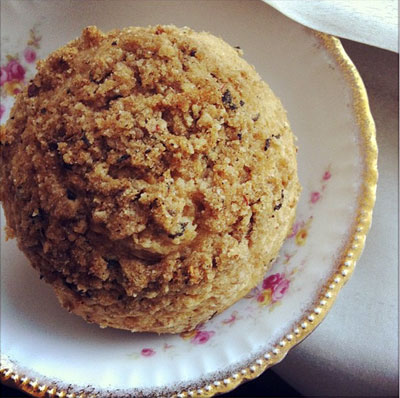 (Makes 6 muffins)
Muffin Batter
1.5 cups whole wheat flower
3/4 cup sugar
1/2 teaspoon salt
2 teaspoons baking powder
1/3 cup grapeseed oil (or vegetable oil)
1 egg
1/4 cup milk
1 1/4 cup pears, peeled and diced
Chai Crumb Topping
1/4 cup brown sugar
1.5 tablespoons flour
2 tablespoons butter, cubed & cold
1.5 teaspoons cacao chai tea
NOTE: To amplify the chai flavor, bring ¼ of milk to a boil over medium heat, reduce to a simmer, add 1 tablespoon of chai tea and simmer for 15 minutes. Strain the chai tea blend from the milk, and let milk completely cool before mixing with the egg and grapeseed oil.
Preheat the oven to 400 degrees and grease muffin tins with butter or cooking spray.
Combine flour, salt, sugar and baking powder in a medium bowl. In a separate bowl, mix grapeseed oil, egg and milk (remember to let milk completely cool if you are infusing it with tea). Combine wet and dry ingredients together and mix in the diced pears.
Add the cacao chai tea to a food processor or spice grinder and grind into a find powder. Add ground chai tea, brown sugar, and flour to the food processor and pulse to combine. Add cold, cubed butter and pulse until the mixture forms pea-sized clumps.
Fill the muffin tins with the batter and evenly sprinkle the chai crumb topping. Bake for 21 minutes, or until the muffins are golden and a toothpick inserted in the center comes out dry. Let cool for 10 minutes. Serve warm, or let completely cool and store in an airtight container.
- Recipe courtesy of Alexis Siemons