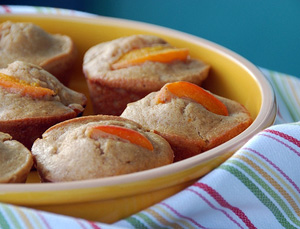 Makes 12 regular size muffins.

1 cup whole wheat flour
1 cup all-purpose flour
1 1/2 teaspoons baking soda
1/8 teaspoon salt
1 teaspoon ground cinnamon
1/2 teaspoon ground nutmeg
1 cup low-fat buttermilk
3 tablespoons honey
1 cup light brown sugar
5 tablespoons smart balance butter substitute, melted
1 large egg and 2 egg whites
2 teaspoons fresh minced ginger
1 teaspoon pure vanilla extract
3/4 cup fresh diced apricots
2 tablespoons sliced almonds
1 apricot, thinly sliced for the tops of the muffins

Place rack in center of oven, and preheat to 375 degrees F. Spray a 12 mold regular size muffin pan with cooking spray.

Combine flours, baking soda, salt, cinnamon, and nutmeg in a large bowl, and stir well.

In a separate bowl, combine buttermilk, honey, sugar, smart balance, eggs, ginger, and vanilla, and whisk well. Add to the flour mixture, stirring until just combined. Fold in apricots and almonds.

Spoon the batter evenly into the into 12 muffin cups. Add an apricot slice to the top of each muffin. Bake for 18-20 minutes, or until the tops are golden and a cake tester inserted into the center of a muffin comes out clean. Transfer the pan to a rack to cool for 5 minutes before removing each muffin and placing on a wire rack to cool.
-Recipe courtesy of Susan Russo