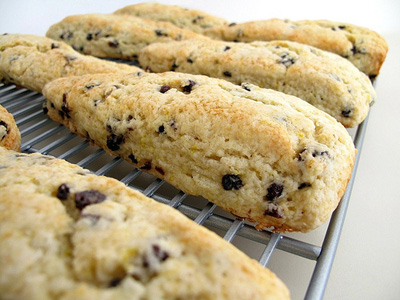 1-1/2 cups all-purpose flour
1-1/2 cups cake flour
1/2 cup granulated sugar
1 teaspoon salt
1 tablespoon baking powder
1/2 teaspoon baking soda
3/4 cup (1-1/2 sticks) unsalted butter, chilled, cut into pieces
1 tablespoon lemon zest (about 1 lemon)
3/4 cup dried currants
1/2 cup heavy cream
1/2 cup whole milk
Preheat oven to 425 degrees F. Line a rimmed baking sheet with parchment paper or a Silpat.
In a large bowl, combine flours, sugar, salt, baking powder, and baking soda. Mix together with a whisk to aerate.
Add butter and work with a pastry blender until mixture resembles course meal.
Add zest and currants. Mix with a fork to combine and coat the currants with flour.
Make a well. Pour in cream and milk. Use a fork to fold in the dry ingredients.
Scrape the dough onto a lightly floured work surface. Knead a few times until a ball forms. Pat the dough into a rectangle about 3/4 inches thick. Brush dough with milk and sprinkle with sugar. Using a sharp knife, cut dough into wedges. Place on baking sheet an inch apart. Bake for 12 to 15 minutes or until lightly golden. Cool completely on a wire rack or serve warm. Yield: 12 scones.
- Recipe courtesy of Joseph Erdos