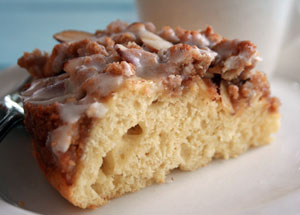 Preheat oven to 350°F. Grease and lightly flour a 9-inch round baking pan or glass baking dish.
Make Sweet Almond Topping:
In a bowl, mix:
1/2 cup packed brown sugar
1 teaspoon cinnamon
1/3 cup almond paste
2 tablespoons melted butter
1/4 cup sliced almonds
Set topping aside.
Make cake:
Sift together into a mixing bowl:
1 1/2 cups all-purpose flour
2 teaspoons baking powder
1/4 teaspoon salt
Whisk in:
1 cup sugar (I forgot to add the sugar. You can go with or without.)
In a 2-cup glass measure, beat:
1 large egg
Add:
enough milk (I used buttermilk) to measure 1 cup.
Add:
1 teaspoon pure vanilla extract
2 tablespoons melted butter
Pour liquid into bowl with dry ingredients. Mix just until none of the dry ingredients are visible. Spread batter in prepared baking dish. Sprinkle with topping. Bake in preheated 350-degree oven for 20 to 25 minutes.
Allow cake to cool in pan on wire rack. Make glaze and drizzle over the cake.
Glaze
2 cups powdered sugar
4 tablespoons (1/2 stick) butter
4 tablespoons cream
1/4 teaspoon vanilla extract
1/4 teaspoon almond extract
Mix all ingredients until smooth. Leftover glaze can be stored in the refrigerator.
Cake adapted from recipe in First Lutheran Church Cookbook, Morris, MN. 1986.
- Recipe courtesy of Sue Doeden